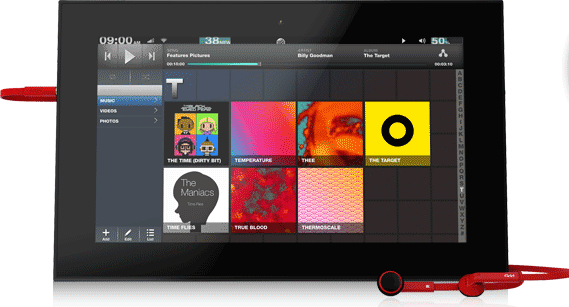 You may have already heard about Fusion Garage, the startup that wanted to be the among the first to release a tablet that could compete with the iPad and profit from the newly formed niche on the mobile market. Sadly, their first product, the JooJoo, which looked and worked pretty damn well, did not take off as the owners planned and still remains buried among the many tablet concepts in dusty forgotten files. However, the company is back in town with a new design and a new attempt at cracking the tablet niche's secret to success: the Grid10 tablet.
The new device is supposed to be a high quality, yet affordable tablet that runs a customized version of the Android OS, supporting all its functions and being able to run all the apps you may need, but with a completely new user interface that does not remind of Android at all. The Grid10 has also received a different design from its unreleased predecessor, and the internal hardware has also been modified to be able to keep up with the latest and greatest.
The tablet certainly looks stylish, with a glass covered front that has a 10.1 inch display underneath, and tapered edges all around, which makes it seem thinner than it really is, just like the iPad did. The performance is provided by the venerable NVidia Tegra 2 – it seems like it's been forever since the chipset first appeared, and it's now actually slower than its competitors, but that's what you get for being the first dual core processor on tablets and smartphones :-). Still, the chip should be much faster than it is on the Grid10 – the operating system probably needs some optimization, as the interface is pretty laggy compared to just about any other custom skin on the market and especially compared to a stock Android installation.
There are only 512 MB of RAM onboard, which may be slowing things down, since all the other 10 inch tablets (with the notable exception of the iPad 2, which doesn't run Android, however) have 1 GB. The 10.1 inch display has a resolution of 1366×768 – very nice on the eye and the highest in its class. There are 16 GB of onboard storage space, and you can extend that to up to 32 GB more using a micro SD card – pretty standard fare on tablets, but it's good that they didn't skip the micro SD slot completely.
Other hardware specs include the usual Wifi and Bluetooth adapters, a 3G radiowith a SIM card slot on the optional 3G version, GPS, a 3.5 mm audio out jack, support for DLNA and a 1.3 megapixels front facing camera (although using it for video calls might be problematic as you'll need to install your desired apps manually or using the Amazon app store, as the Google App Market is not supported). The battery deserves a mention, but not for positive reasons: despite being a pretty big 5800 mAh unit, it only lasts about 4,5 hours, less than any other 10 incher on the market. It's probably a software issue, however, which can easily be fixed with an update if Fusion Garage keeps it up.
Of course, the main attraction of the Grid10, besides the low $299 starting price (it was $499 originally, but they reduced it considerably since then), is the GridOS, which is based on Android but provides a very different way of using the tablet. In fact, you could say it's just Android 2.2 with a deep interface customization, although there are a lot of other changes besides the skin.
The home screen contains a grid that has all your apps' icons, and which can be grouped together into bigger clusters. It's a lot like the tiles in Windows 7 Phone, actually, only without the live previews. Instead of separate screens, you get one big screen with icons, which can be scrolled through using your finger, and there's even a mini map to show you where exactly you are. It's just like a strategy game, only instead of units and buildings you have your icons and clusters. Gamers should feel at home, although newcomers will have to get used to the new arrangement.
The tablet was supposed to start shipping in September, but it didn't and we're still waiting. When (or if) it does ship, it'll be a good competitor, although if they can't get the Android Market supported somehow, I doubt it'll be much of a challenge to Android and iOS.