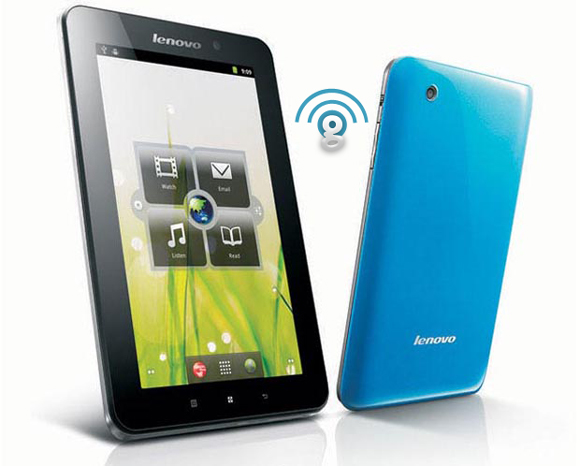 Lenovo has been pretty quiet about their tablets ever since they announced them, but it seems that they weren't just sitting around doing nothing, as at this year's IFA in Berlin, they demonstrated a real working version of the IdeaPad A1 – a surprisingly nice tablet at a very low recommended price.
The new IdeaPad looks pretty attractive, with its rounded edges and sleek finish. It's built mostly out of plastic, but that doesn't stop it from being very solid, without any creaks or squeaks. The size is perfect if you want a device that can be used on the road as well as at home or office, and it's pretty slim as well – not Galaxy Tab 8.9 slim, but at 12 mm it will easily fit in any bag and it sits well in one or two hands, however you want to hold it.
The A1 has a nice 7 inch display with the usual for this size 1024×600 pixels resolution and normal viewing angles, brightness and colors, which are great indoors but not so good outside – that's a common fault of most tablet, though, I'm just mentioning it because it is Lenovo we're talking about here and they're known to have a few great display technologies in their possession. Near the top there's a VGA camera for video calls and you also get a 3 megapixels snapper on the back for photos and video clips.
The performance on this thing is actually the highest in its class – the price clearly tells us that the A1 is a budget product, and for the price, you won't find anything faster than the 1 GHz TI OMAP 3620 with 512 MB of RAM under the hood of this IdeaPad. There's also more than enough storage space, with the basic model coming with 8 GB of memory and two other models having 16 and 32 GB of space. But the surprise in this case comes when you see the expansion options: the IdeaPad A1 has both a micro SD AND SD card slots, so you could technically spend about $70 and get a whopping 64 GB of additional storage with two of those cards – not only that, but 64 GB SD and micro SD cards are already selling, so if you want the most space possible, you can have over 100 GB of it for a relatively cheap price!
That's very thoughtful of Lenovo and it's weird that other manufacturers don't do it – it's so easy to just add another slot for the cheaper and faster SD cards! Other hardware specs aren't all that impressive, but you get the basic features that any mobile device should have: Wifi, Bluetooth and GPS are present and accounted for, so you can conceivably have a very cheap 7 inch navigator in your car that can also double as a audio/video player and portable computer – pretty neat if you ask me.
The IdeaPad A1 will be running a vanilla installation of Android Gingerbread out of the box, and it seems unlikely that it will ever get an upgrade to Honeycomb or Ice Cream Sandwich, but if the boot loader is unlocked, the modding community will take care of that, just like they did with the Nook Color. Speaking of which, the Nook is actually the closest competitor to the IdeaPad A1, and it doesn't have GPS, a camera or a microphone, plus it was never meant to run a full Android installation, which makes the A1 a better choice.
Now, the price: The 8 GB model will cost only $199 – that's with all the other specs intact, including the two card slots! That's even cheaper than the Nook Color, and it's definitely a good purchase from a reputable brand name. Sadly, it will only be available in Europe and Asia, with the US getting the slightly more expensive 16 and 32 GB models for $249 and $299 – still a great price, but for ~$50 you could have 40 GB with an SD card instead of 16 GB internal memory in the former model. Regardless, the A1 will be a great choice of a tablet for those who want something good for the best price.