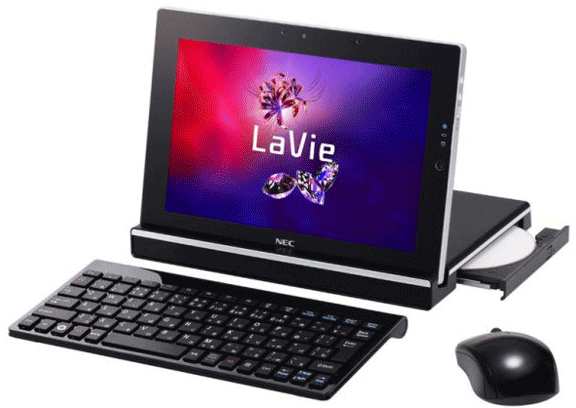 NEC is one of the biggest OEM electronics and semiconductors manufacturers in the world, and while they seem to be invisible to everyone except the corporations that really need their products, they have actually already tried their hands at end consumer goods, including laptops, smartphones and tablets. In fact, they are a pretty prominent player on the Japanese market, and people seem to have a generally good opinion about them and their products.
One of the latest products that they announced and are planning to release on the Japanese market is the LaVie Touch – a Windows 7 tablet for professionals, which will provide top speed and quality in the lightest package ever, and which can also be used for replacing your desktop and laptop, as well, thanks to an external keyboard and dock that add all the peripherals you might need and that are missing on the tablet itself.
The exterior of the LaVie Touch is pretty nice, with the front being adorned by a big 10.1 inch IPS LCD touch screen with a resolution of 1280×800 pixels and a very good contrast and brightness ratios and great colors reproduction.
On the tablet itself, you will find a 1.3 megapixels camera on the front for video calls and taking quick snaps (no camera on the back, sadly, but professionals wouldn't need it anyway), an SDHC slot that can be used for retrieving pictures from your camera or extending available storage space (which is provided by a fast 64 GB SSD drive), two USB ports and a HDMI out port.
Inside, the LaVie Touch has, in addition to the Wifi and Bluetooth adapters, an Intel Atom Z670 x86 processor, which is single core but it's actually faster than a similar previous generation Core 2 Solo, for example, and much faster than a dual core ARM Cortex-A9 (although they can't really be compared directly). The little 1.5 GHz monster is able to run Windows like it's nobody's deal – you won't notice any lags, except in the more resource intensive apps, of course. The 2 GB of RAM ensure that you'll never get slow-downs for lack of memory, either (plus the SSD is really good at removing the swapping effects).
With all those specs inside, the NEC LaVie Touch still manages to be a nice 263x183x15.8 mm in size and weight just 729 grams – that's the same weight as many less functional Android tablets and just a bit heavier than the first iPad – if that's not manageable for most people, I don't know what is (okay, maybe the iPad 2 and Galaxy Tab 7.7 are :-)).
For the price of $1300, buyers will also get a very nice dock that can turn the tablet into a desktop or laptop, and add not only more ports, but also a DVD writer. Along with that is a wireless keyboard and mouse that complete the package and can make this tablet the only computer you'll need to have. This is excellent for constant commuters, for example, who need to have everything on one device and hate syncing or forgetting the second tablet/laptop at home. Not bad NEC, but you should definitely come over the ocean, as well!