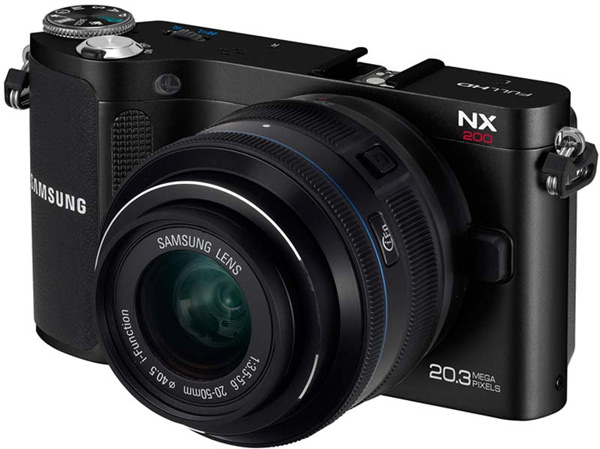 The market for compact Interchangeable Lens Cameras is getting pretty crowded right now, but that doesn't mean there is no space for newcomers. On the contrary, this is the time to become established in a leading position. Samsung seems to have understood that, and they've started pushing into the niche with some very nice devices, with the latest one being the NX200 – an ILC that can easily compete with the likes of NEX-5 and Olympus PEN, both in picture quality and overall look and size.
Compact design with a rubberized body
The exterior of the NX200 looks very much like most of Samsung's previous point and shoot cameras, with the obvious difference being the removable lens, of course. It also reminds a lot of Sony's NEX-3 and NEX-5, but that's because the design is pretty generic. The 117x63x36mm size is more than enough to be portable for any occasion, although the lens will take up more than the camera, for sure. The whole body is rubber coated, and that helps a lot in getting a good grip, whether you're holding it with one hand or two.
20.3 Megapixels leave out no details
The camera uses a very nice 20.3 megapixels APS-C CMOS sensor (the same technology used in Sony's 24 megapixels Alpha NEX-7 and A77), which will provide excellent picture quality in most conditions. Low light conditions shouldn't be a problem with the 12800 ISO support, and you also get shutter speeds between 1/4000 and 30 seconds – although a longer exposure may be beneficial to some people, the majority of users should find it more than acceptable for everyday use. The autofocus speed is only 100 ms, which makes it possible to capture 7 FPS or crystal clear shots continuously.
Samsung's acclaimed AMOLED technology powers the 3 inch display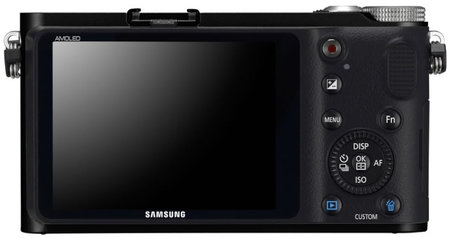 The display is very nice – it's a 3 inch AMOLED unit with a resolution of 640×480 pixels, and if you've seen Samsung's AMOLED, you already know that the picture quality is very impressive, among the best out there. It comes in very handy when you need to shoot photos or videos, and the NX200 does the latter amazingly well: it can shoot 1080p Full HD videos and output them to an external screen using the integrated HDMI interface.
The menu will take some time getting used to
Although Samsung has implemented a great auto mode system, if you're serious about photography and want to go all manual, the menus will take some time getting used to, especially if you're a beginner. Unlike other companies, Samsung decided that new photographers should get used to professional style complicated menus right as soon as possible, that's why you're bombarded with a plethora of settings as soon as you switch to manual – I suppose that's a good thing, since you'll skip learning multiple interface types and will be able to adjust immediately to a professional camera right away. However, if you're an experienced photographer, you'll find yourself right at home.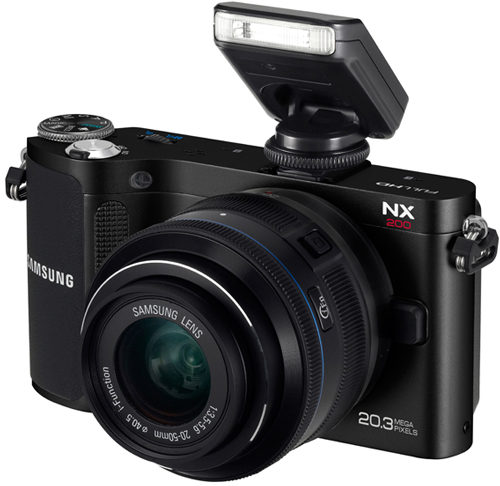 The availability of good lens adapters makes the NX200 a great choice
There is already a good amount of lens on the market for Samsung's NX mount, but if you find them insufficient, you can always use an adapter like the ones from Novoflex to attach almost any lens you may need – in most cases, there will be no problems with the lighting, either.
Samsung is not the first company you think about when it comes to professional cameras, but the quality of the NX200 is undisputable: a lot of things about this camera are great, and there's no doubt it's a good choice for any amateur or professional who wants a compact ILC for all their photography needs.