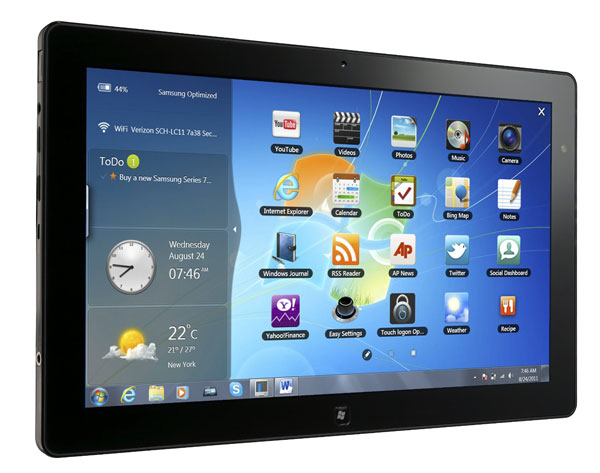 Samsung has had a pretty amazing 2011, and the year is not over yet – they have released some very impressive devices in all areas of computing, from smartphones and tablets (The Galaxy S2 is set to be the new most popular Android phone, while the Galaxy Tab 7.7 is the obvious Android tablet champion) to PCs and laptops – their series 9 and 7 are pretty darn impressive.
Speaking of which, Series 7 does not end with the laptops, either: there's a slate coming up, running Windows 7, looking amazingly well and packing enough processing power to give any other tablet, netbook or even laptop a run for their money. Yes, the Series 7 Slate is that amazing!
First of all, the new tablets look great on the outside – it's definitely not what you'd expect of a Windows 7 slate, especially not one with this monster's specs under the hood. There are four versions of the Series 7 Slate, but they differ only in storage capacity and the edition of Windows they carry. The rest is the same, starting from the 13 mm thickness (that's VERY slim for the specs, which you can find further down in this article) and 920 grams weight (it's a pretty packed device, indeed) and ending with the exterior design, which is a nice black finish all around, with the front having only the 11.6 inch display with a resolution of 1366×768 pixels – enough for all your work and just big enough to be able to use Windows 7 with the touch screen comfortably. The digitizer on top of the screen is a pressure sensitive Wacom, which can be operated with the included stylus, as well as your fingers if you want to.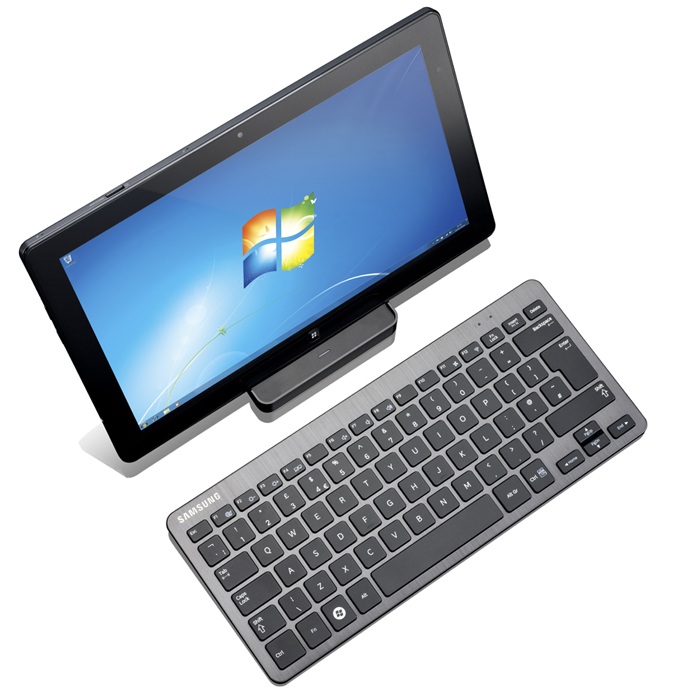 Now, the Series 7 Slate doesn't run some puny Atom CPU on the inside – no, Samsung went all out and installed a Core i5 2467M, which is a full-fledged second generation Core i processor (even though it's the ultra-low power version), complete with an integrated Intel HD 3000 graphics chip, both of which are almost an overkill for a tablet – but not if you want to use it as your universal computer, which you can easily do. That and the whole 4 GB of integrated DDR3 RAM plus the 64 or 128 GB SSD make the Series 7 Slate by far the fastest Windows 7 tablet on the market.
The performance does come at a sacrifice in battery life – Samsung says it can last up to 7 hours, but judging by the Ultrabooks with the same processor, it'll be more like 4-5 hours tops. Still good for a tablet, but not for a professional work machine, so you'll have to keep your charger close. However, all the hardware specs that you'll find on other tablets are there, as well, which is impressive: you have a Wifi and Bluetooth adapters, a full sized USB and a micro HDMI ports, and a SIM card slot for your 3G data card.
Optionally, you can get a wireless keyboard and a dock, which will turn your new tablet into a laptop or desktop replacement – the keyboard has the usual chiclet style that you can see on Apple's Bluetooth keyboard, for example, while the dock adds another USB port, and a full sized HDMI out and Ethernet ports, as well.
The price, however, is very high for a tablet – the base model costs $1099 (without the accessories), and the price goes up to $1600 for the top model (including the peripherals). Keeping in mind that this "tablet" has more power than most current notebooks, it might be a good purchase for at least some business owners and corporate users.