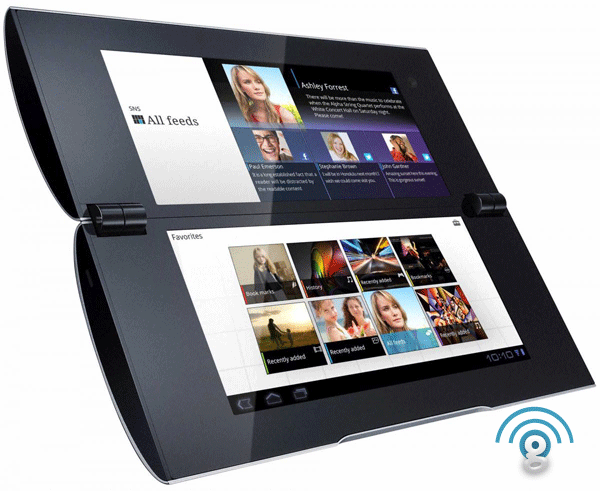 Sony's entry to the tablet market was pretty slow, with their S1 and S2 tablets having been announced quite a while ago, yet only now do we see a real demonstration of their capabilities. I have to say, the Tablet S is one of the nicest and most unique Android tablets on the market – it doesn't try to look like the iPad, and its unique wedge shape is actually useful in the real world, as it makes it easier to use it on the go, in the office or at home.
Its smaller sibling, the Tablet P, is also a very unique device, but this time Sony treads on unknown waters – the dual screen design will surely find its users, but there may not be enough of them to make it a success. The only other device with this configuration is the Kyocera Echo smartphone, which doesn't seem to enjoy a great deal of popularity, but that might be because of its strict and boring design.
The Tablet P looks pretty cool, on the other hand, with its round shape and small footprint (compared to the total surface of the screen). It actually reminds me of the Microsoft Arc mouse, which was meant to be ultra-portable thanks to its folding design. Just like the Arc, Sony's Tablet P folds to half its size, but when it's open, it has two 5.5 inch touch screens (each with a resolution of 1024×480 pixels) that form one big display or can be used separately – for games, various apps or to run the keyboard on one screen while seeing what you're typing on the other.
That makes for a very interesting experience, although if you want to take full advantage of the display, you'll need specially optimized apps, otherwise everything will be stretched across both screens, and the black line right in the middle doesn't look very good (it's pretty distracting, actually).
Performance-wise, everything should be in order. Unlike Kyocera, Sony knows that you need a powerful chipset to run two displays, and they equipped the Tablet P with a Tegra 2 running at 1 GHz per core – not the fastest thing on the planet, but definitely more than enough for the job. There's also 1 GB of RAM that will ensure you can run all your apps at once without lags or force closes, as well as 4 GB of onboard storage, with a micro SD card for additional space if you need it in the future.
All the other cool stuff is also on board, and you have support for DLNA, a 3.5 mm audio out jack, Wifi N and Bluetooth 3.0, a 5 megapixels camera for photos and HD video and a VGA camera for video calls, and a pretty big 3080 mAh battery, which should last for about 7-8 hours – I wouldn't bet on it lasting longer, but that's good enough for most usage patterns.
Despite the form factor, Sony decided to install Android 3.2 Honeycomb on the Tablet P, with their own customizations to the skin, as well as to the core to allow for dual screen use. That makes the Tablet P unsuitable for the modding community, so I hope Sony will release updates in the future, although Honeycomb is pretty much the pinnacle of tablet only Android.
No word on the release date and pricing, but the tablet should be available sometime in the following months – maybe it'll be ready by Christmas? The price is supposed to be lower than the Tablet S, but by how much is unknown.