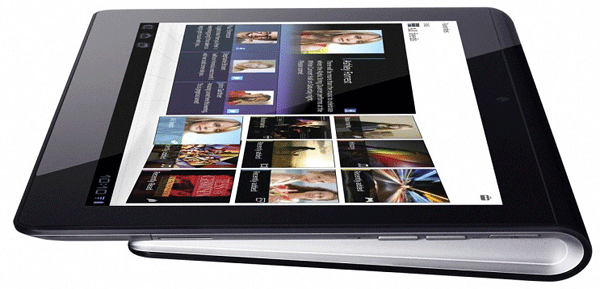 Sony has always entered a new market in their own, unique style, and the mobile market has already seen quite a lot of their Xperia smartphones, which always manage to look stylish and be up to the times specs wise, although the software on the first models did lack a constant upgrade schedule.
And now, it's time for Sony to finally enter the tablet market. They have actually already announced their tablets S1 and S2, and now we finally got confirmation of their names: they will be released as the Tablet S and Tablet P. While the latter looks pretty interesting, the former is actually better – it is one of the most unique yet normal tablets to date.
Unique and practical design that doesn't resemble any other tablet
The Tablet S doesn't resemble the iPad nor any other tablet on the market. In typical Sony style, they found a design that is unique, practical and very nice looking at the same time. The wedge shaped body of the Tablet S makes it easy to hold, as well as easier to work with when it's laid flat on a desk. The display is also unique: it's a 9.4 inch panel with a resolution of 1280×800, which makes it possible to have a smaller overall size of the device while still retaining the clarity and surface area of an almost-10 incher (I'm pretty sure they've done some research before choosing this size, as the tablet sits very well in your arm, held by the thick side).
Dual core performance and all the features you may need
Performance wise, there is nothing bad to be said about Sony's new tablet, either: it is powered by NVidia's Tegra 2 platform running at 1 GHz on each of its cores – it might seem slow compared to other tablets on the market, but it's still more than enough to run any apps you might ever needs, even those for video editing on the go. Obviously, the 1 GB of RAM helps speeds things along, and the 32 GB of on-board storage space let you store all the files you need. There's also a micro SD card slot that can be used to add another up to 32 GB of memory, which would bring the total amount to 64 GB.



As with most other tablets on the market today, the Tablet S has two cameras: a 5 megapixels shooter on the back that can also film 720p HD video, and a small pin hole VGA camera on the front for video calls and self-shots. Among the other features, which include GPS, Wifi, Bluetooth, DLNA, a gyroscope sensor, notable is the exclusion of a HDMI out port – I guess you can't have it all with Sony.
Runs Android Honeycomb, no word about the pricing yet
Of course, Android runs the things on this device – more specifically, it's version 3.1 Honeycomb, with Sony's customizations on top of the interface. It looks pretty good and is also functional, which is exactly what tablet buyers want.
The Tablet S will become available in the next few months (along with its smaller dual screen brother, the Tablet P), but the cost is as of yet unknown – don't expect it to be cheap, though.