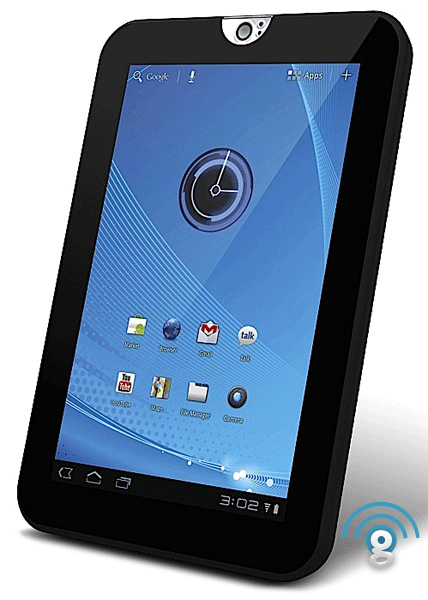 Toshiba's entry to the tablet market was a bit disappointing for them, with their first tablet, the Thrive (or Toshiba Handibook, as South Park dubbed it even before it was released) being pretty good specs-wise, with a lot of practical features that would benefit owners in everyday use (like the full sized USB and HDMI ports and SD card slot), but looking so completely generic that it managed to elude the attention of nearly everyone, including the intended target niche (practical users), who saw the interchangeable colorful back panels and thought "this must be a budget tablet for novice users".
Their new 10 incher, the AT200, looks much better and has a lot of improvements on the inside, however the practical stuff that thrived on the Thrive (pardon the pun) is now gone. I guess we'll have to wait and see how popular this model will be (although I have a feeling that Toshiba's mellow marketing efforts don't help the device at all).
While the new AT200 is priced pretty high and is intended to compete with Apple's iPad 2, Toshiba decided to release another tablet that is aimed squarely at the general consumer who wants something good for as low price as possible. That tablet is the Thrive 7, which as you may have guessed is a 7 inch tablet from the Thrive "series" – indeed, it's a shrunk down Thrive all around! Will it be able to compete where the first Thrive failed, and why did Toshiba decide to name it after a failure? Let's find out.
The exterior of the Thrive 7 looks exactly like the 10 inch version – I kid you not, it's almost freaky seeing them together, it's like seeing the iPad and the iPhone 3GS on the same table :-). Joking aside, there aren't any differences aside from the size, and of course the lack of the full sized USB port and SD card slot, which have now been replaced by the standard mini USB and micro SD. Thanks to the shrinkage, though, the tablet actually sits very comfortably in your hand, despite having the same thickness as the original Thrive (which is actually about the same as the original 7 inch Galaxy Tab).
On the inside, you'll find the same NVidia Tegra 2 SoC, which is more than enough for anything you may want to run and makes for an excellent platform for a budget tablet. There will be two versions available, 16 GB and 32 GB, and the price has been confirmed to be under $400 – I'm thinking something like $250 would be just enough for the tablet to become popular while still generating some profit for the company, but I guess we'll have to wait and see what price will Toshiba put on the new Thrive.
I actually liked the 10 inch Thrive, except for the fact that it was 10 inch, and I think the Thrive 7 can be a great tablet for those who want a relatively affordable device that will do everything they throw at it. It would've been perfect if it still retained the full sized ports and slots, but oh well, you can't have it all…