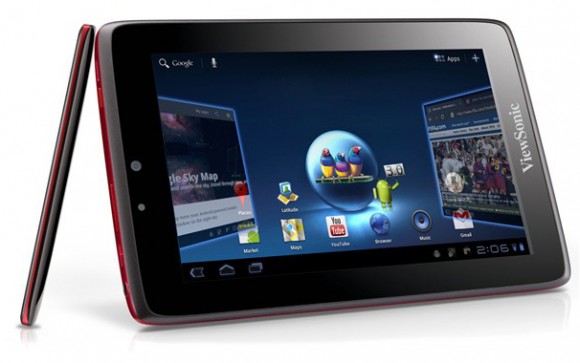 ViewSonic has been in the tablet game for quite a while now, even though they're pretty much unknown to the general public, mostly because their tablets have been Windows devices aimed at business and corporate users (which is the same reason that the tablet itself has been a ghost in most people's eyes for over a decade before the iPad was released).
But now they're trying to get into the actual consumer market, which is already huge and still growing exponentially every single day. And while their new ViewPad 10Pro 10 inch tablet is supposed to bridge the gap between corporate x86 Windows machines and Android (it runs them both), their other product is a pure consumer device, reminding more of all the other Android tablets than of ViewSonic's own slates, which is a step in the right direction, for sure.
I'm talking, of course, about the ViewPad 7x – the tablet that has already gained a small reputation for being (or at least trying to be) the first 7 inch device running Android Honeycomb. Surprisingly, it's true – all other 7 inch tablets (still) run Android Gingerbread, and even Samsung hasn't bothered releasing an update for their first Galaxy Tab, either. Also surprisingly (at least for me), the ViewPad 7x is one of the more attractive Android tablets to be released this year, especially for consumers, and you'll see why if you read on.
The exterior of the upcoming ViewPad 7x is very pleasing to the eye and to the touch: it's got rounded corners and edges, with a nice red finish around the frame, a glass covered front and a very interesting back, which looks elegant and expensive with the triangle checkered finish (with the camera and LED flash being hidden among them) and glossy chameleon paint that will attract all the eyes when you turn it over in the sun or even under a bright light. That's certainly a big departure from the 10pro and other ViewPads, which won't win any beauty contests with their angular and boring design.
The 7 inch display is a pretty standard 1024×600 pixels unit capable of reproducing 16 million colors with a nice contrast and brightness ratios, but in this case what's on the screen is more important than the panel itself. Right above the display, you can notice the small 1.3 megapixels camera for video calls and the ambient light sensor for automatic brightness adjustment. The aforementioned camera on the back has 5 megapixels and of course supports 720p HD video recording.
The excellent performance is provided by NVidia's good old Tegra 2 package, which is still very fast despite all the new 1.5 GHz dual cores around. The processor is running at 1 GHz, as usual, and the GeForce ULV graphics adapter can easily pull though anything you can throw at it (and ViewSonic has certainly thrown something!). There's also a full 1 GB of RAM and 8 GB of internal storage space – if that's not enough, you can use a micro SD card to increase that amount to 32+ GB, enough for all the music, movies and documents you'll ever need to store on the tablet.
Obviously, Android 3.0 Honeycomb powers this 7 incher, and while it may be a first for this screen size, we've already seen what the OS can do on the bigger devices. However, ViewSonic seems to have pulled off the impossible and actually made a slight improvement to the interface! Going along with the 3D fashion, they have implemented a new 3D home screen, which works very smoothly (it's GPU accelerated) and looks impressive – you have to see it to appreciate it.
The battery of the ViewPad 7x is said to be affected by the overuse of the spinning 3D home screen, but not by much: it should last 6-7 hours of continuous use, which is enough to do anything you might need at work before needing to plug in the charger (at least for me, that's the case). Of course, if you use the Wifi, Bluetooth, GPS or 4G adapter inside the device extensively, that number will go down pretty quickly.
Overall, the ViewPad 7x looks like a winner – it is certainly one of the best 7 inch tablets I've seen this year, and it would look great in any home, office or on a car dashboard (as a GPS navigator) – if the price is right, it's a keeper!