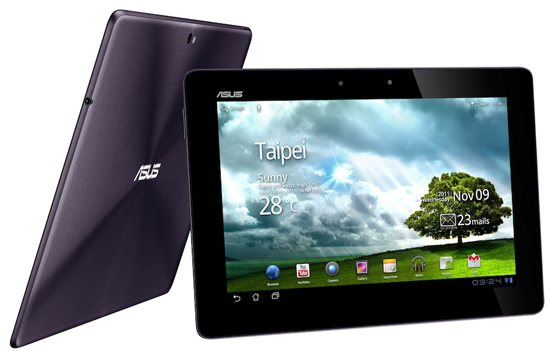 Asus has entered the mobile market quite a long time ago with their EEE PC line of netbooks – I'm sure most of you don't even remember them :-), but they haven't stopped innovating, and while they've basically been throwing new products to the wall to see if they stick, the Padfone, EEE Pad Slider and Transformer tablets have attracted quite a lot of attention and have stirred up the market a bit.
And now, they're ready to take it to the next level, with the announcement of the new Transformer Prime tablet, which is going to be the first tablet to feature NVidia's much awaited Tegra 3 platform, also known as "Kal-El" – a SoC with a quad core processor and some pretty amazing graphics features and performance.
The Transformer Prime (a very interesting choice for the name, by the way – it's clearly alluding to Optimus Prime) looks quite different than its predecessor – it's got the same form factor of a detachable tablet and a keyboard dock, but it's sleeker and thinner, a great design for the second generation of the device. In its netbook form, it reminds a lot of the new Ultrabooks (although not Asus' own UX31, that thing is quite different in style).
The keyboard dock has a brushed aluminum finish and island keys that look pretty comfortable, with a well sized touch pad at the front. The tablet part is now slimmer (obviously) and has an all-black bezel around the screen, unlike the slightly weird glass bezel + metal frame around the first Transformer's display.
The screen itself is a pretty impressive 10 inch Super IPS+ unit, with the standard 1280×800 pixels resolution that should be enough for most people, and it's covered entirely by a large piece of Gorilla Glass, which has proven pretty good at being scratch resistant. Obviously, there are not hardware navigation buttons – we've done away with those for good half a year ago, and so the display looks gorgeous by itself on the front.
But the 16 million colors and great view angles pale in comparison to what's inside the 8.3mm (yes, it's pretty darn thin) device – the new Tegra 3 SoC from NVidia, which has a quad core processor running at 1.2 GHz, as well as a 12-core (not physical, but like the CUDA cores on their desktop cards) GeForce GPU – the most powerful in class, by a large degree! This monster has double the performance of its predecessor and is more than enough to take on everything, including high end, beautiful 3D games, some of which have already been demoed on the Transformer Prime to show its power.
The Tegra 3 is very similar to the ARM Cortex A9 quad core in the Sony PSV, actually, but the GeForce GPU is unique – it's more like a desktop chip than a mobile one, and it's faster than the Vita, too – if you've seen the performance of Sony's new PlayStation, you'll know that is pretty impressive!
The processor is joined by 1 GB of DDR2 RAM running in dual channel configuration (thanks to the Tegra 3's integrated controllers), which means that it will be fast in pretty much anything, although maybe Asus should've increased the amount to 1.5 or even 2 GB to make it more future proof.
The Transformer Prime has 64 GB of onboard storage space, which would be plenty enough for most people, but the company also didn't shy away from adding a micro SD card slot, for which they deserve some recognition – using it, you can have up to 96 GB on the tablet – very nice. Of course, the tablet/netbook hybrid has a Wifi, Bluetooth and GPS adapters, but it will not feature a 3G modem, which is a bit surprising since it's the perfect tool for a true road warrior. There's also an 8 megapixels camera on the back for photos and HD video, as well as a front facing 1.3 megapixels unit and a HDMI out port for outputting all the imaging goodness to an external display/projector/TV.
The Transformer Prime "may" come with Android Ice Cream Sandwich pre-installed, but even if it's not, it will get the update pretty soon. Until then, it might run the older 3.0 Honeycomb, which is still a very commendable and capable OS, for sure.
All in all, Asus really hit the jackpot with the Transformer Prime – the thing has everything one might need, is super powerful and fast, and it has a dock that makes it a full-fledged netbook with a nice keyboard, touchpad and more battery life – if the price is low enough, this is going to be yet another winner on the tablet market.