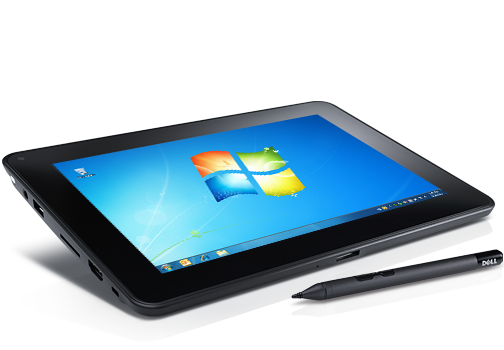 Dell is one of the largest laptop manufacturers in the world, and they've recently been trying to get into the mobile game, as well. Their 5 inch Streak smartphone wasn't as successful as they had hoped, and there doesn't seem to be any indication that they'll try to go at it again, but who knows.
Meanwhile, they've also been working their way into the tablets market, and after probably considering going with another Android powered device, they decided to stick with what they do best and release a Windows tablet, running on Intel's x86 Atom CPU, of course. They actually have quite a lot of experience in the area, since they are the manufacturer of the popular Latitude XT convertible tablet, which now spans three generation and is still pretty popular among artists and business professionals.
I'd say that it was just a matter of dropping the keyboard part and releasing it as a tablet, but their new Latitude ST tablet is a great device on its own, and it's a pretty good choice for any business exec or corporation, although Dell is targeting it towards schools and medical institutions as well (at this price, few will want it, though).
The Latitude ST looks pretty standard on the outside – it's a simple tablet with an unassuming black color, much like the Motorola Xoom or the Toshiba Thrive (it has a lot more in common with the latter, except for the chrome accents). It's pretty sturdy thanks to its metal frame and big Gorilla glass on the front (it covers the screen and the borders, as well) – it'll definitely hold up to normal everyday use and even abuse.
The display is a 10.1 inch, 1280×800 pixels unit with Wide View Angle and LED backlight that has an N-Trig digitizer, which supports multi touch and pressure sensitivity, but it has built up quite a negative reputation with HP and Dell customers, mostly because of the bad drivers both companies provide (just like they do for their graphics adapters and Ricoh internal card readers). Still, if the drivers are good this time around, the digitizer should provide a pretty good experience.
The other hardware is nothing impressive, especially considering that the Latitude XT is much more powerful at about the same price, but I suppose the small overall size warrants the decrease in performance. Intel's Atom Z670 CPU is working inside the new tablet, running at 1.5 GHz, which is enough to run most Windows 7 apps, but obviously, you won't be doing any movie editing on the touch screen anytime soon. The processor is also accompanied by 2 GB of DDR2 RAM and Intel's own Graphics Media Accelerator 600 video adapter, all of which combined consume less than 10 watts of power, which is good news for the tablet – the 30 Watts/hour battery should last about 6-7 hours of use.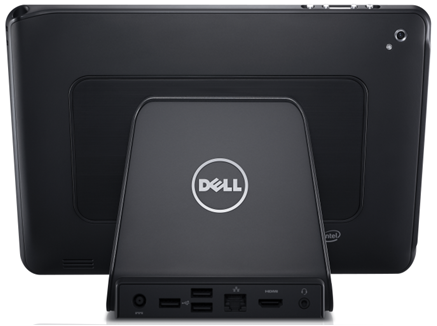 The storage space is provided by a fast SSD drive with capacities of up to 128 GB – that's more than enough for a tablet, even if you're storing and editing a lot of documents. The Latitude ST also has a mono speaker, a 3.5mm audio jack, integrated microphone, a 5 megapixels camera on the back (a weird decision for a business tablet) and a 2 megapixels front facing camera that can also shoot 720p videos (excellent for HD video chat, actually). Then there's your usual Wifi, Bluetooth, Broadband adapter with GPS (optional) and a full sized USB and HDMI ports (just like the Thrive).
There's nothing to say about Windows 7 – it's a well-known OS and if you're buying this tablet for $2000+, you know that you need it. While the specs are pretty good, and the Latitude ST is a well-rounded tablet, it doesn't really justify the cost. Sure it may weigh only ~850 grams and be in a tablet form factor, but for the same price you can get a nice Latitude XT2, XT3, or Elitebook 2740p convertibles, which have more power and capabilities. Or you could just get a ViewSonic 10pro if you need a Windows 7 tablet for work.
image source: dell.com