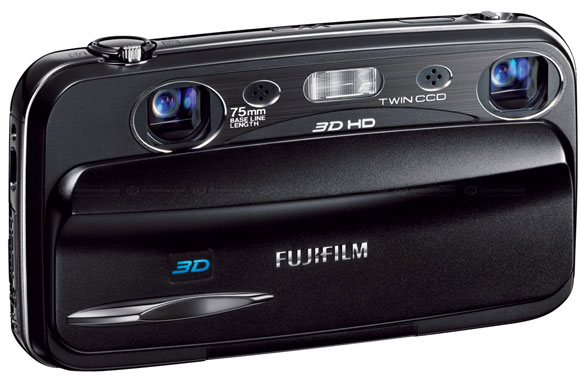 For better or for worse, it looks like 3D is here to stay. Manufacturers are pushing it quite heavily, even though neither consumers nor businesses don't really see the point of 3D as it is right now (maybe if it was immersive and holographic, then it would be more useful :-)). The biggest players in the field – Sony, Panasonic, Samsung and XPanD even created an alliance to promote the technology, so they're definitely serious about 3D everywhere.
And obviously, after 3D TVs and laptop displays (check out HP's new Envy 17 3D edition), you've got to give people 3D cameras. Panasonic seems to be leading here in both the professional field with their Z-10000 professional camcorder and consumer market with the new Lumix DMC-3D1, but there are other companies who want to get in on the game.
Fujifilm is one of them and they've had the FinePix Real 3D W1 for quite a while now, but that was a test platform to see if the market is worth it and apparently, it is, since they've announced the follow-up to the W1, the FinePix Real 3D W3, which brings along a few improvements, including support for 3D HD video shooting. Now, don't ask me what happened to the W2, but the W3 definitely looks like it's ready for people who want a real working 3D camera.
The W3 looks a lot like its predecessor, with its rounded compact housing and twin lens behind the sliding door, but of course there are differences, the biggest one being in the camera controls on the back of the device – instead of the unusual buttons-only setup on the W1 (which look pretty good and probably seemed like a good idea at the time, but proved difficult to use and adapt to), the new camera uses the traditional dials and buttons that you'll find on pretty much every other camera around. The body is also smaller now, with a bigger screen that can also display the 3D content you just recorded.
The dual lens of the W3 are spaced 75mm apart, to mimic a human's eyes, and that makes 3D video and photos better, at the expense of 3D macro mode, which isn't very good at close distances (but Fujifilm has implemented a few software fixes for that in the camera's processor, so it's not as bad as it could've been). The 2×10 megapixel sensors do a great job at recording both 3D and 2D content, and you can use both of them simultaneously in 2D mode for some pretty nice video or photo compositions, as well.
The screen of the FinePix W3 is a big 3.5 inch, 1,150,000 pixels unit, which can display everything you've just shot in 3D, and even at this small size, it's pretty good for previewing your new 3D video before uploading it to YouTube for others to see. You can also output the video through HDMI to an external display or TV.
Being a compact camera, the W3 uses a proprietary battery, which can be recharged, but which isn't as useful as a few pairs of AA batteries – and because of the dual lens/sensor AND 3D display setup, you'll go through the 1000 mAh in no time when shooting even in 2D mode.
The Fujifilm FinePix Real 3D W3 is a great 3D camera if you want to be able to film 3D content, but unless everything in your house is 3D or you want to store photos and videos of your children in 3D for when they grow up, it's not really worth paying the $600 asking price, especially since newer and better cameras are around the corner.