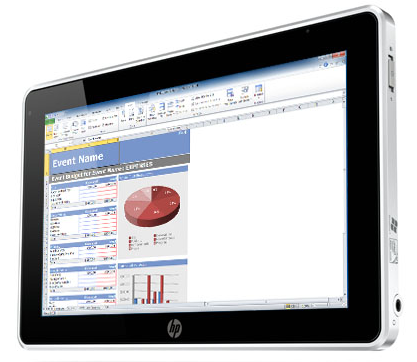 HP may have made a big mistake when purchasing WebOS from Palm and when they severely overestimated their TouchPad (which has been discontinued practically right away, but the remaining stock that resells for $99 got a second life thanks to the unofficial Android port), but if there's one thing they're still good at (and always have been), it's making servers, laptops and desktop computers, especially machines for the corporate market, which have to be reliable, durable and stable.
When they announced the HP Slate, everybody thought it would be a failure, but it turned out to be quite successful with corporations and individuals who needed a reliable, rugged Windows tablet that runs all of their apps and is secure. It's now known as the Slate 500, and it sells pretty well, with glowing reviews from its users. If you ever held one in your hands, you'll know that it's also pretty well made – its metal frame makes it sturdy as a rock and the glass covering the screen seems to be unscratchable. And right now, HP has announced the successor – the Slate 2, which features improved internal specs, as well as multitouch support and a Swype-style keyboard input method.
The new Slate 2 looks pretty much the same as the previous model – it has the same gray metal frame around the housing, with an 8.9 inch touch screen on the front and a sturdy plastic cover on the back, which is now just plain matte and flat, unlike the Slate 500's textured one.
The only change in the hardware is the new Intel Oak Trail platform, which features a single core, dual threaded 1.5 GHz Atom Z670 processor that has a better integrated graphics chip, as well as a faster memory controller. This processor is actually faster than the older 1.86 GHz Atom, despite it having a slower clock and consuming less power. The CPU is packed together with 2 GB of DDR2 memory running at 800 MHz, which is plenty fast for anything you might be doing on this slate. There's also a 64 GB mSata SSD inside, which is faster than the onboard Flash storage on the previous model.
You can also extend that space using an SD card – thanks to the Windows OS, you can use cards of up to 128 GB in size or more (or just limit yourself with the faster class 6+ 32 GB models).
Other hardware specs include a front facing VGA camera for video calls and snapshots, a pretty good 3 megapixels unit on the back that can be used for taking photos and shooting video (not HD, though), a Gobi 3000 HSPA broadband modem for a cellular data connection, as well as a Wifi N and Bluetooth 4.0 adapters and SRS Premium sound with two stereo speakers.
In the package, buyers will receive the stylus, a leather case and a very nice looking dock that has two USB ports, which can be used for connecting a keyboard and mouse (plus a printer or external hard drive to the third USB port on the tablet itself).
Sadly, the tablet won't be running Windows 8 when it ships, but there is the possibility of upgrade (it's not locked down or anything, so users can even do it themselves), which will make the Slate 2 even better than before. Windows 7 isn't a bad OS, either, but it's a bit difficult to use with a small touch screen, and HP even replaced the default software keyboard with a better one that is always accessible using a hardware button on the side and supports swiping to type words – a method which many think is superior to the usual typing.
Overall, the Slate 2 looks pretty good, but it isn't that much of an improvement over the Slate 500, so I'm guessing it's made as a refresh for new buyers, not intended as an upgrade. Once Windows 8 comes out, the HP Slate will be the best tablet around for businesses and professionals, and even with Windows 7, it's worth a look.