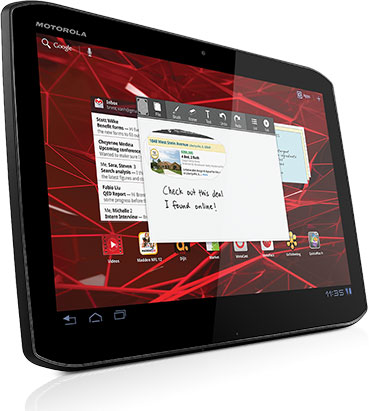 Motorola has been pretty successful lately, with the Droid X2, Droid 3 and Droid RAZR being welcome by a lot of people around the world. They've also been acquired by Google, and while we don't know what awaits them in the future, representatives said that they will continue producing handsets and tablets as usual.
Speaking of which, they weren't very successful at their first attempt to enter the tablet market – despite good critic reviews, the Xoom, which was the first tablet to run on Android Honeycomb and is a pretty well-rounded device, didn't sell very well, which is a bit surprising, but the cause may be in the OS itself, since there weren't many apps compatible with Android 3.0 when the tablet came out. That and the Xoom was pretty bulky and thick for a 10 inch tablet, so that may have played a role, as well.
However, now, Motorola is ready for the second round and with the Xoom 2, they believe they'll succeed where they failed last time. Indeed, the new Xoom looks very nice, has great internal hardware and features and will resell for an attractive price – basically everything an individual would want in any device, which means that the tablet has a high chance of success, especially if Motorola markets it correctly.
The design of the new Xoom is completely different from the older model – it has the same overall design as the Droid RAZR, with a hexagonal shape and a slim profile (only 8.8mm – a big change from the first Xoom!), which makes it look sleek and aggressive at the same time – it'd be pretty cool to own one of these was my first thought when I saw it, and I'm sure other people think the same. The thing is pretty light, too, at 600 grams, making it easy to hold with one or two hands.
The 10.1 inch display hasn't changed in size or resolution (it's the same at 1280×800 pixels), but neither does it have to, as it's pretty good as it is. The whole front is covered by Corning's Gorilla Glass, making it very scratch resistant. On the back, there's a big and honking metal plate that looks like it can take some damage, and the sides are covered by a soft rubbery plastic, making it easy to hold the tablet. There's an optional stylus pen for the Xoom 2, which should come in handy for note takers and artists, but of course you'll have to pay extra.
The internal hardware specs have improved, but not by much – the Xoom was already powerful enough, though. The Xoom 2 has a dual core 1.2 GHz processor and 1 GB of RAM, as well as 16 GB of onboard storage space, plus there's a micro SD card slot, so you'll be able to add up to 32 GB more space. The camera is the same old 5 megapixels unit with support for HD video recording, and there's a front facing 1.3 megapixels one, as well, for video calls and HD video chat in 720p resolution – a pretty nice feature. The tablet will be available with a data modem, although the speed and standard depends on which network buys it (though it should be at least 4G 14.4 Mbps).
The Xoom 2 will be running Android 3.0 Honeycomb out of the box, which is a bit unfortunate, but it was already confirmed to be getting the new Ice Cream Sandwich in a couple of months, so owners will just have to wait a bit if they want to have the most advanced tablet on the market.
Motorola really did a great job with the new Droid RAZR and now Xoom 2 – these two products should be considered the flagship models in the smartphone and tablet markets, respectively. The Xoom 2 will be reselling for about $600, and the specs and design make it worthy of attention.