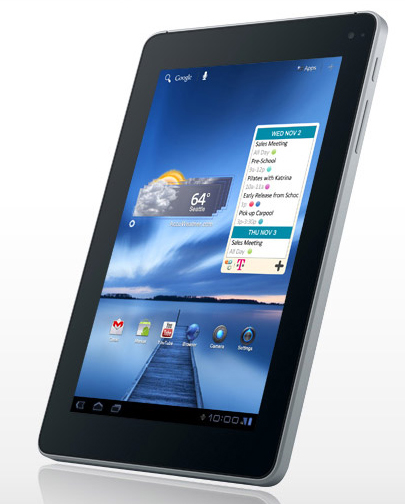 Huawei is a pretty big company that is mainly known for their OEM components and industrial electronics, but lately they've been developing their brand on the mobile market, releasing some pretty good 3G/4G modems, routers, Wifi adapters and just recently, smartphones and tablets.
They haven't really been able to penetrate the US market for the latter two niches, but they're actively trying, that's for sure. Just recently, they partnered up with AT&T to deliver one of the best value smartphones for the network – the AT&T Impulse 4G, which has a nice array of features, despite its simplistic design. And now, they're finally getting into the tablet game with the Mediapad, or as the official importer, T-Mobile, calls it, the Springboard.
The Huawei Mediapad was first announced for the Chinese market, and marketed as an entry-level tablet with a lot of features and a low price tag. The US-bound model has kept those points, with T-Mobile also saying that the Springboard is a tablet for everyone. Unlike other affordable tablets on the market, the Springboard does not feel cheap – in fact, it's just as sturdy as some of the more expensive models out there, with an aluminum unibody construction that feels and looks great – Huawei is certainly aiming to impress.
The internal specs are definitely not what you'd expect from a budget tablet – aside from the pretty decent 7 inch display with a 1280×800 resolution, the Springboard has a dual core 1.2 GHz Snapdragon with the Adreno 205 graphics adapter – that's more than enough to run anything you'd want, even video editing apps. With 768 MB of RAM onboard, this thing easily matches the iPad 2 in performance, at a much lower price (it's supposed to cost around $200 and compete with the Kindle Fire and Nook Tablet)!
The other hardware specs are pretty nice, as well: there's your usual Wifi, Bluetooth and GPS adapters, various sensors, a 5 megapixels camera on the back with support for HD video recording (but no LED flash, unfortunately), a front facing 1.3 megapixels camera for video calls and whatnot, and a full 16 GB of internal storage space + a micro SD card slot under the cover for whatever files you may need to have on the device (maximum possible memory is 48 GB, so there's plenty of room for growth).
The new tablet also has stereo speakers with SRS Surround sound (basically an equalizer to give you a more 3D sound experience), a 3.5mm audio jack, HDMI out port and of course, a 4G modem for your T-Mobile subscription. Huawei didn't go cheap on the battery either – the 4100 mAh unit is in line with most other tablets and can get you about 10 hours of work time on a single charge, which is pretty much the current standard. All of that fits inside the 0.41 inch thin, 14 oz. light metal body.
The T-Mobile Springboard will be shipping with Android 3.2 Honeycomb out of the factory, and a future upgrade to Ice Cream Sandwich is highly likely, although it may be a while before the tablet gets it. Thankfully, buyers will the get the vanilla Honeycomb experience – there is no custom skin or other customizations, and with the boot loader unlocked, there is a high chance that this tablet will be alive and kicking many years from now thanks to the developers' community and their custom ROMs.
Overall, you can't say you're not impressed when seeing this tablet next to its price tag – Huawei really shows that you don't have to sacrifice build quality or performance if you want to pay less, and that makes the Springboard a top candidate for those looking to buy a great tablet at an affordable price.