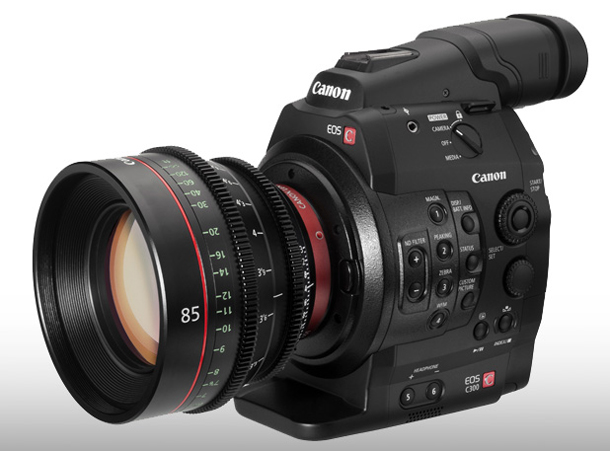 While Canon is well known in the word of digital cameras, you don't hear much about their other products in the audiovisual niche, specifically high end cameras. Canon has had a line ever since they started making their (pretty good) consumer cameras, yet most of the times, they've been overshadowed by the competition, which has more experience and sometimes better prices.
But Canon is doing pretty well regardless, and just recently, they've updated their professional cameras line with the EOS C300 – a modular digital camera for cinematographers, videographers and anyone who intends to use it for filming some serious production (movies, TV shows, feature films, etc.).
The C300 is not your usual pro camcorder, either – unlike the older Canon cameras, it features a new modular design, much like the famous RED One and the new Scarlet, while the cost is even lower (although the specs are a bit behind, too). It looks quite impressive and it definitely will be great for people who need the flexibility, but the accessories range is pretty limited at the moment, although that will undoubtedly change in the future.
The internal specs are top of the line, as well, with Canon equipping the EOS C300 with a new 8.3 megapixels CMOS sensor, which is modeled on the Super 35 mm 3-perf motion picture film standard and is able to deliver a full bandwidth to each color channel without the need for debayering, leading to a clear and sharp image with true to life colors. The sensor also has a shallow depth of field, high signal-to-noise ratio and reduced rolling shutter artifacts – pretty much in line with the older top of the line professional cameras, which were huge and cost a lot more just a decade ago.
The camera itself is relatively small and light, measuring 133mm x 171mm x 179mm and weighing 1430 grams, but the accessories add to the bulk pretty quickly. The controls are positioned around the body and duplicated to allow for quick access from any position, giving the cameraman as much flexibility a possible. The housing itself is dust and splash proof to allow for use in outdoors conditions, and the cooling system is designed to allow for pretty much limitless shooting time, as long as you have an external source of power.
The video and audio recorded is stored in a standardized file format using an MXF wrapper, and you'll be able to edit the footage on pretty much any professional NLE system. The recording itself is done to two CompactFlash cards, which are pretty affordable, high capacity and fast, allowing for undisturbed streaming of uncompressed video/audio data without issues. If CF cards aren't enough for you, you can always stream the data straight to an external hard drive array using the integrated HD/SD-SDI serial interface – you can also use the port to stream to an external monitoring system while recording to CF cards, as well. Obviously, the camera has all the necessary XLR ports and adapters, to allow for a maximum extension of capabilities.
The pricing of the new Canon EOS C300 hasn't been announced yet, but it's expected to be much less than the RED cameras, and that makes it a perfect choice for beginner cinematographers and companies who want to start a studio or create a TV show using their own equipment and locations.