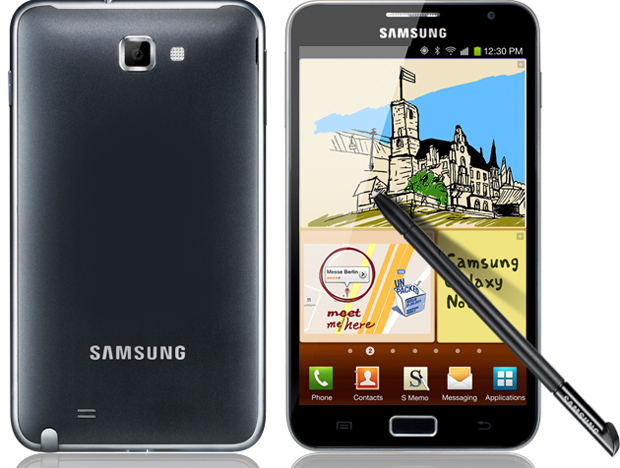 The most popular trend in the smartphone world was the ever increasing screen size – the average display size went from 2.8 inches to 4 inches in less than 5 years, and surprisingly, we're still OK with the size of the handsets. One of the latest smartphones, however, breaks the mold with an oversized 5.3 inch HD display – I'm talking about the Samsung Galaxy Note, of course.
As Samsung puts it, this is a smartphone/tablet hybrid that is meant for comfortable note taking on the go, as well as entertainment, Web browsing and, well, phone calls and messaging. The first three tasks were usually delegated to small 7 inch tablets not long ago, and the Galaxy Note aims to steal some of their market share. But can it do it?
The Galaxy Note's 5.3 inch display has a 1280×800 pixels resolution and thanks to its Super AMOLED Plus matrix technology, it has a very high quality picture, with great contrast, viewing angles and colors. The brightness is at a high level, as well. This screen is almost as good as a 7 inch unit size wise, but thanks to some clever engineering, it fits inside a 147x83x9.65mm housing – usually a tablet would be at least ~190x120mm, and that's what makes the Note attractive to people who would otherwise buy a tablet.
The Galaxy Note doesn't have any drawbacks when it comes to the performance or battery life, either. The dual core Samsung Exynos chipset that powers the device is practically the fastest on the market, and here it's running at 1.4 GHz, aided by 1024 MB of RAM and the high performance Mali 400 GPU – there is no high end tablet that is faster than the Galaxy Note at the moment, actually. You'd think that the display and power-hungry processor would be too much for the internal battery, but the Note fits a big 2500 mAh unit inside, which lets it run for an average of 13 hours before needing a recharge – that's in the same range as any 7 inch tablet.
As you'd be getting the Note to replace your smartphone, as well as a tablet, you'll need it to be great at note-taking and true to its name, the smartphone indeed is – it even has an integrated stylus, which is pretty accurate and lets you quickly scribble some notes, which can be converted to machine text with the appropriate apps. You're also able to record audio and video with the integrated microphone and 8 megapixels camera, which can shoot in Full HD resolution. Typing is also pretty great – the big display, high resolution and compact body really make it easy to type with your thumbs – something you can't do on a 7 inch tablet.
There's plenty of storage space inside, as well – the Galaxy Note has 32 GB of onboard memory, with the user being able to add another 32 GB using a micro SD card. Of course, you also have the standard hardware features set, including Wifi N, Bluetooth, GPS (and the Note is an excellent in-car GPS navigator), HDMI out and more.
One possible drawback to the Note is that it runs Android 2.3.5 Gingerbread instead of Honeycomb, but if you're using specialized apps for note taking, it shouldn't be that much of a problem. Besides, with an update to Ice Cream Sandwich (probably in the first quarter of 2012), the Galaxy Note will easily be able to match any tablet in OS features.
The Samsung Galaxy Note is a great tool for taking notes, as well as a good smartphone. It's really an interesting hybrid, and thanks to its big display and relatively compact size, it's a viable replacement for a 7 inch tablet, as well as a smartphone – if you need to take a lot of notes on the go, this could be the universal device you've been looking for.