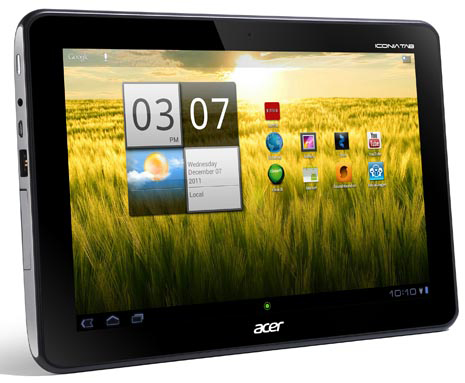 Acer hasn't been very active at CES 2012, but they did manage to announce two tablets – one is the Iconia Tab A700, which may or may not come to the market in the following months, and the other is the confirmed Iconia Tab A200 – a budget tablet that has some pretty good specs and runs the new Android 4.0 Ice Cream Sandwich.
The A200 looks more attractive than the A700, even though the latter has a Tegra 3 processor inside, and the reason is that it is supposed to cost only $330 – for the features you get, that's a pretty low price.
The A200 is basically A500's newer, cheaper successor, and as such, it is made mostly out of plastic, with only the real important parts on the inside being an alloy. That is actually fine, and the tablet feels very sturdy – I certainly can't see it fall apart after a year, two or even five of work – it'll most likely retire because the internal specs will become obsolete within that time frame.
The design is nothing special – just your usual slate form factor with rounded edges, slightly tapered sides, a big display on the front with a protective sheet of glass that is also the digitizer (it's unknown if it's Gorilla glass or something cheaper/unbranded) and a back cover, which in this case has a very nice textured finish that feels great to the touch and makes the tablet sit better in your hands (it won't slip and fall down, that's for sure). The Iconia Tab A200 will also be available in multiple colors, so buyers will be able to choose one that they like best.
The internal hardware of the A200 is nothing to laugh at, especially considering the low price point. The whole device is powered by a fast Tegra 2 dual core processor and a full gigabyte of RAM, which is more than enough to run any and all apps presently on the market, plus the integrated ULV GeForce graphics adapter can deal with any games and 3D apps like it's no one's business.
The display is a respectable 10.1 inch, 1280×800 pixels IPS unit, which provides a great picture, deep contrast and enough brightness to be usable even in direct sunlight, although I wouldn't recommend using any tablet in those conditions :-). The other hardware specs are also pretty nice, with the standard Wifi N, Bluetooth, GPS and 3.5 mm audio jack – all present and accounted for. The tablet even has a full sized USB port along with the micro USB – now that's something you don't see on every tablet!
Besides the 16 GB of internal storage space, the Iconia Tab A200 packs a micro SD card slot, as well, and on the front, you'll see a 2. Megapixels camera that's supposed to be used for video chat and snapshots. Looking at the back of the device again, you'll see why Acer is able to sell it for only $330 – there is no big camera there! That may not be a problem for some, but a lot of people want to be able to take a photo or two without using a separate device.
Everything seems to be in order with the software part, though – the Iconia Tab A200 comes with Android Honeycomb out of the box, but there will be an Ice Cream Sandwich update waiting for the user when they turn on and activate the device – so it's practically going to ship with Ice Cream Sandwich.
For $330, without any contract, the Iconia Tab A200 is certainly a great deal – the device will start shipping by January, 29th, so if you were holding out for an affordable yet powerful tablet with the latest OS, this could be it.