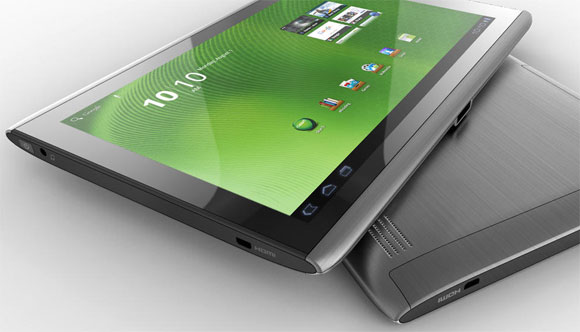 Acer has been busy and fairly successful last year, having released a slew of smartphones, tablets and an Ultrabook, and it looks like this year they'll be continuing the trend in 2012, as well. At this year's CES, they have demonstrated their next attempt at a flagship tablet – the Iconia Tab A700, a quad core slate with a beautiful 1920×1200 pixels Full HD resolution IPS display and of course, Android 4.0 Ice Cream Sandwich.
I suppose you could consider the A700 a successor to last year's A500, which is a great dual core tablet that is constantly ignored and underrated by users and reviewers alike for some reason (tablet manufacturers really need to work on their marketing). The similarities are clear, but the improvements make the A700 a much better machine overall.
The design is very clean and nice – there's a big 10.1 inch display on the front covered by a Gorilla glass sheet, with a front facing 1.3 megapixels camera and a couple of sensors hidden under it, as well. The sides of the tablet are made of a rubbery plastic that is easy to grab and hold without being afraid that it will slip out of your hands, and the plastic cover has a textured pattern that looks pretty nice.
You'll notice the Dolby Surround logo at the bottom – indeed, the A700 has two stereo speakers and a software equalizer that creates a more 3D effect. It's no real Dolby sound, but it's better than what other tablets provide, that's for sure. There's also a 5 megapixels camera on the back with an accompanying LED flash and of course, it's able to take 1080p videos if you want to. The whole device is only 9.8mm thick and it's pretty light thanks to the plastic, although that makes it feel a bit les "premium" than the unibody iPad and Galaxy Tabs, for example.
The internal hardware is the main attraction: aside from the Full HD screen, which looks great by the way, with a clear picture, vivid colors and enough brightness to make the tablet useful in any conditions, the Iconia Tab A700 has the new Tegra 3 quad core SoC, with the processor running at 1.3 GHz and featuring an improved GeForce GPU with 12 cores. Coupled with 1 GB of RAM, it should provide enough power to run any apps for at least the next couple of years. I actually think that 1.5 or even 2 GB of RAM would've been better, but I suppose that 1 GB is enough for an Android tablet.
The other hardware specs are similar to all the other high end tablets on the market. There's the standard Wifi N, Bluetooth 3.0 and GPS radios, micro USB port, micro HDMI port, a 3.5 mm audio jack, and other good stuff. There's no word on the storage space, but by the looks of it, there is no micro SD card slot, so the tablet will most likely come with 32 or 64 GB of inbuilt memory, which seems to be standard practice nowadays.
Of course, the Iconia Tab A700 will be running Android 4.0 Ice Cream Sandwich when it launches, with Acer's customizations to the interface, which aren't that bad after you use the device for a while. The price hasn't yet been announced, but you can expect the A700 to cost between $500-600, if the Asus Transformer Prime is anything to judge by.