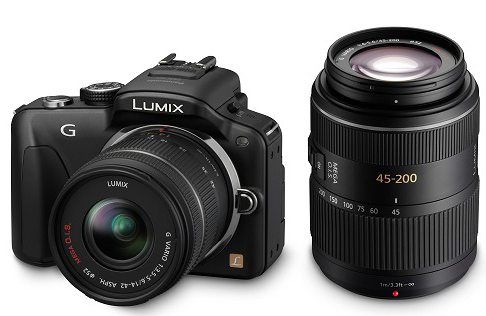 In the overcrowded world of digital cameras, the Lumix series from Panasonic always stood out, whether it's the consumer point and shoot or professional dSLR models. Their quality is very high and the feature/performance/price ratio is pretty hard to beat by any other company.
The G series is a specialized mirror less interchangeable lens camera using the micro Four Thirds design that is made specifically for taking photos, and as such these cameras have no focus on video besides the basic ability to actually film and record.
The latest Lumix model in the line, the G3, is probably the most interesting yet, as it combines all the advantages of a full-feature dSLR that its predecessors had with a much more compact body that is almost as small as the GF and FZ series, which are meant for ease of use and portability.
This makes it the perfect travel camera for those who want to get the best shots when traveling, but don't want to carry something that lacks any features, either. It's a hard balance to strike, but the G3 seems to be able to do it. It measures 115x84x47mm and weighs 336 grams, and compared to the G2, which measures 124x84x74mm and weighs 371 grams, it's positively smaller and lighter.
On the outside, the Lumix G3 looks pretty much like any other dSLR or semi-pro camera: it's got the same controls placement and overall design that makes it easy to handle the camera for any kinds of shots. The display is very good – it's a 3 inch touch screen with 460,000 pixels that is also articulated and can be turned and rotated to 180 degrees, which allows for shots that would be pretty hard to achieve with a fixed display. The camera also has an EVF, which many people still like, and with its 1,440,000 pixels, it's practically just as good as a real LVF.
The Lumix G3 has a 16 Megapixels sensor, which is completely new to the series, and is a much more improved version of the old 12 megapixels unit that is inside the G1 and G2. You can use it to shoot high quality photos at up to 7 FPS in continuous mode (with a fast SD card, of course), or film video in 1920×1080 60i or 1280×720 60p resolutions with stereo sound (this is another improvement over the previous models). You can also easily shoot 3D photos or videos with Panasonic's new 3D lens, which fits the camera perfectly, although it will obviously cut the megapixel count in half (which is not as bad on the bigger 16 megapixels sensor).
The touch screen is actually better than most cameras out there, and fortunately, everything is doubled by the traditional external controls, which makes the G3 great for experienced dSLR users, as well as novices who might prefer the touch controls over the old school method.
The starting price for the Lumix G3 body is actually lower than the G2, which is another great point for the camera, and thanks to its good video mode, it might also be a good purchase for people who need a hybrid still/video camera, but who want to focus more on photography than video.