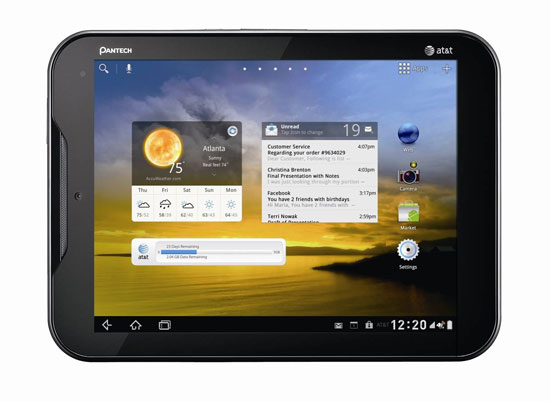 Pantech is a pretty big company in its home country, South Korea, and it has a large share of the domestic mobile market, but they're not that well known outside the country. In the US, they're best known for the cheap smartphones on AT&T, but they're looking to expand their activity and increase the number of offers for the western markets.
One of the latest products from Pantech that were announced in partnership with AT&T, was the Element – an affordable 8 inch tablet that is fully water proof. That's a pretty good combination, since rugged tablets are usually expensive, and there is a notable lack of them on the market, and it will be interesting to see how the new device fares.
The Pantech Element looks pretty nice, although it does have a very generic feel to it, but there's not much you can do about that – it is a tablet, after all, and aside from the screen on the front, everything else is not that customizable. The display, by the way, is a 4:3 format, 8 inch unit with a resolution of 1024×768 pixels, which looks and works pretty well, although it's not nearly as good as Samsung's Super AMOLED or the new Full HD screens when it comes to picture quality, contrast and brightness. It's good enough, though, and you'll have a hard time looking for flaws if you want to use it as an everyday work and play machine.
And the Element is intended precisely for that purpose – with a Gorilla glass covering the front, a glossy plastic back cover with a nice pattern finish and a rubberized frame around the entire housing, the device is completely water proof. Not resistant – this thing can easily survive if fully dunked into water, although not for too long (Pantech says it can survive for 30 minutes under 1 meter of water, but that's more like 5 minutes in the real world). You can definitely use it outside, in the rain, and take a bath while reading a magazine.
The watertight sealing means that the Element is by definition, dust proof, as well, so it can also be used at the beach without worrying about those pesky sand particles getting inside. Add to that a shock proof case, and you've got yourself a cheap rugged tablet that can also be dropped and used for any kind of field work – pretty awesome.
The hardware specs aren't bad at all for a rugged tablet: with a dual core 1.5 GHz processor and 1 GB of RAM under the hood, the Pantech Element can provide all the performance you might need for your apps and games. The other hardware features include a 5 megapixels camera on the back for photos and HD video, a front facing 2 megapixels snapper that can do HD video chat, micro USB and HDMI out ports, a micro SD card slot in addition to the 16 GB of storage space onboard, the usual Wifi N, Bluetooth and GPS radios, as well as the 4G LTE radio, of course.
The tablet will run Android Honeycomb out of the box, and there's no word about Ice Cream Sandwich for the device, although theoretically it supports it and as a new device, it should get the update soon enough.
But you really can't complain about the OS when you see the price – unlocked and without a contract, the Pantech Element will cost $450, which is pretty damn cheap. With a two year contract, you'll pay only $300, and coupled with a big 6400 mAh battery that should last more than 12 hours on a charge, it makes the tablet very attractive for anyone who wants to use it for field work. What's even more interesting is that AT&T is offering it for only $250 if you also get the new Pantech Burst smartphone as a companion – a very attractive offer, indeed.