The gaming laptops niche evolved out of the need to have a powerful machine that can be used for work and play alike, which would also be portable enough to be placed in a bag and carried anywhere. The current generation of gaming laptops is pretty adequate, but lugging around a 10 pound beast is not one of the easiest things to do.
With Ultrabooks set to become the new mainstay in the laptops market and desktops seemingly going away for good, it was just a matter of time before we got an ultra-powerful, ultra-portable gaming machine, as well. The first company to deliver it to us is Razer, and their laptop is called the Blade.
High build quality and ultra-slim design
The Razer Blade is definitely one impressive laptop, especially for a gaming machine. Its name is quite accurate in describing the essence of the laptop – the device is very thin at only 0.8 inches (20 mm) with the lid closed, and if you take into consideration the 17.3 inch display size, you'll see why that is so remarkable.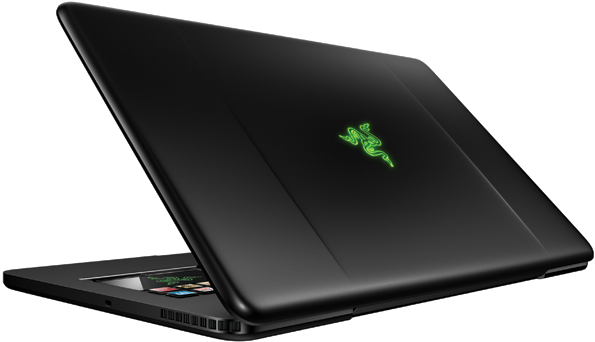 The build quality doesn't suffer from that, either, thanks to the unibody construction that is taken straight from Apple's book of design – indeed, if not for the special features on the inside and the Razer logo, you could easily mistake the Blade for a next generation black MacBook Pro. The matte black (or dark gray, to be precise) finish makes it look very stylish and it also helps focus on what's going on on the screen instead of being distracted by refractions.
Hardware specs worthy of a gaming machine
The hardware specifications are awesome for such a slim laptop, however they may be a bit underpowered for a gaming machine. The Blade only comes in one configuration, with a Core i7-2640M dual core (no, not the i7-2630QM quad core – don't be confused by Intel's naming convention) Sandy Bridge processor running at 2.8 GHz and using Intel's Hyper Threading technology, 8 GB of DDR3 RAM, a 256 GB SATA III SSD and NVidia's GeForce GT 555M graphics adapter with 2 GB of GDDR5 video memory. While the processor and RAM are more than enough for most games, the 555M is slower than the cards used on competing gaming machines, but then again, none of them are so slim and light.
This configuration should be able to run most of the new games on high settings, but you'll most likely have to disable Anti-Aliasing and a few options to get the best frame rate – otherwise you might encounter occasional stuttering (which is still impressive when you think about it – it's not like you have to run the games in medium quality to make them playable).
Lots of expansion options and a unique touchpad with integrated display
The expansion options are also pretty generous – the Razer Blade has a Gigabit Ethernet port, Wifi N and Bluetooth 3.0, a HDMI out port, 1xUSB 3.0 port and 2xUSB 2.0 ports, as well as a 3.5 mm audio jack. That should be more than enough to connect any accessories you might want – not that you'd need them with the Blade. There's also an integrated 2 megapixels HD camera in the lid above the display and a pair of mediocre speakers – but seriously, if you're a gamer who buys the Blade, you probably have a great pair of headphones already.
The most attractive features are revealed once you open the lid – the 17.3 inch display is great, with a 1920×1080 pixels resolution and LED backlighting, but what catches your attention is the other display on the right side of the keyboard, which also serves as the touchpad. I wish other companies would use this design, with the numpad replaced by the touchpad, but alas. Anyway, the touchpad is also a touch screen and this allows it to be used for a lot of tasks, including playing RPG games with more efficiency, even when you're on the go.
Above the touchscreen is a row of 10 special buttons that are also small LCD displays – it's like an Optimus Mini Six keyboard embedded in the laptop! They're also programmable to launch different apps/functions in dependence of the open application, which is a great way to add shortcuts anywhere. Everything is powered by Razer's own Switchblade User Interface, which works pretty well.
The price of this machine is also unique for its class – $2799 you'll have to drop to get it in your home, and that's a pretty high price that not many gamers will afford, especially with more powerful machines out there. Still, if you want an ultra-slim machine with enough performance to run say, Skyrim, at high settings and with no lag, it's a choice worth considering.