Third day of the Mobile World Congress gave us a stale ending to what was supposedly an explosive event – or so we thought. On the very same day, GSMA hosted the 17th Global Mobile Awards in recognition of developers, manufacturers, and companies that made an impact in the mobile industry over the past year. It was the perfect way to end the event. In yesterday's post, I gave you the winners for best apps of 2012. Sit tight. You're in for a tastier treat today.
Nokia C3 – Best Feature Phone
A survey by Pew Internet shows that more than half of US phone owners have smartphones in their hands. The rest? They still have ol' reliable feature phones in their pockets. If you're one of the few people who refuse to embrace the smartphone revolution, consider getting a Nokia C3-00. GSMA crowned it the Best Feature Phone of 2012.
To give you a quick recap of Nokia C3, it sports a classic form factor, full QWERTY keyboard, and a 2.4-inch screen fitted into a metallic/plastic body that weighs only 114g. Turn around and you'll see a 2MP camera. It has Bluetooth and WiFi connectivity, social integration, and push email. Overall, Nokia C3-00 is a highly functional phone with an affordable price.

Nokia definitely deserved to get an award for creating an all-in-one feature phone. With Nokia Asha fresh out of the box, the company might take home the same award next year.
iPad 2 – Best Mobile Tablet
Why am I not surprised? After Samsung admitted they weren't doing good in the tablet industry, it only meant Apple was gobbling up most of the tablet sales. iPad 2 was a little disappointing with its lack of Retina display expected to arrive on iPad 3. But its sleek design, iOS 5 software, dual-core A5 chip, iCloud integration, 10-hour battery life, and overall functionality, won the judges over.

iPad 3 is going to be launched at next week's media event in San Francisco. According to rumors, an 8GB iPad 2 may be launched along with it. I'm not sure if iPad 3 is going to be innovative enough for next year's awards. If the rumored 7-inch iPad Mini comes out by summer, it has a huge potential of bringing the bacon home.
Samsung – Device Manufacturer Of The Year
A weeks-old survey shows Samsung is the most popular Android brand in the US. Motorola, HTC, LG, ZTE, and Huawei trailed behind. A survey by iGR shows that consumers prefer Samsung over any other manufacturer of Android devices. When asked for a comment, judges say it was because Samsung showed "success across the board with progress in every category, outperforming rivals in a tough market."
Samsung Galaxy S II – Best Smartphone
And the Best Smartphone of 2012 goes to – Samsung Galaxy S2! Its 4.3-inch Super AMOLED display, 8MP rear camera, and powerful 1.2GHz dual-core processor set a benchmark among its rivals and consumers from around the world. During its release, it was the thinnest smartphone. In fact, iPhone 4S looks fat next to it. No offense, fanboys.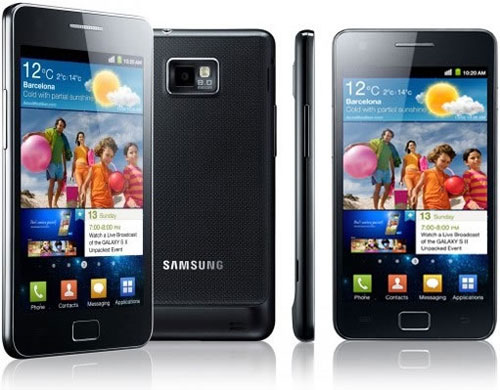 Samsung Galaxy S II i9100 is a real work of art, selling a total of 20 million devices worldwide in one year. It's UK's favorite Android phone and judges call it a "phenomenal success".