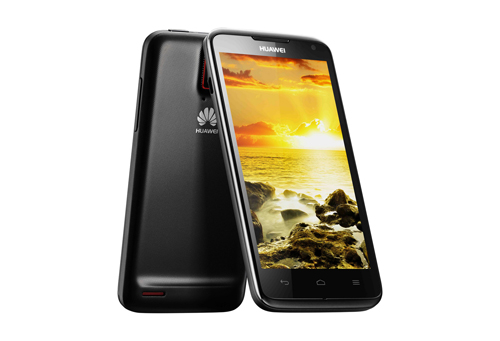 Huawei Ascend D Quad was one of the 5 most interesting things we saw at the Mobile World Congress. It was touted as "the world's fastest smartphone" and made us all wonder if Huawei Chairman Richard Yu was being truthful or boastful. Recent benchmark tests show that Huawei was true to their word, as their first quad-core smartphone currently tops the AnTuTu Benchmark leaderboard. Ascend Quad D is the highest scoring smartphone and beats LG Optimus 4X HD and HTC One X. But we won't see it in shelves until July says Chinese website CNMO.
Huawei won't start mass-producing Ascend Quad D until June, four months after they unveiled it at MWC. It's clear that the Chinese multinational company wants to compete against Samsung Galaxy S3, HTC One X, and LG Optimus 4X HD with this device. But the company is at a loss here. Despite having a headstart with their early announcement, it could lose its title as the "fastest smartphone" to Samsung Galaxy S3, rumored to have a quad-core Exynos chip inside it. And while Ascend Quad D is faster than HTC One X, Huawei is placing its sales at risk of losing against both Samsung and HTC. HTC is set to announce One X by April 5 and based on the geeky video clip explaining "micro arc oxidation" – the science behind the thin but sturdy ceramic backs of the One Series – it could be headed to stores by May or June, weeks before Ascend Quad D will be out in stores.
As soon as Ascend Quad D goes on sale, people may already have HTC One X or Samsung Galaxy S3 in their hands. CNMO says it's not shipping until July. Huawei is still an emerging name in the Android market and most consumers are still skeptical of what they're capable of – even though their phone currently tops benchmarks. For a fact, benchmarks don't always equate to equally good real-world performance. It would've been smarter if they released Ascend Quad D alongside its competitors. But since Samsung Galaxy S3 and HTC One X will most likely get a headstart on release dates, Huawei's offering won't stand a chance. Ascend D Quad's impressive specs would be put to waste.
If you're willing to give Huawei a chance, we do recommend that you wait for its release so that you can compare its hands-on review to those of HTC One X, Samsung Galaxy S3, and LG Optimus 4X HD. Ascend Quad D has a 4.5-inch IPS HD display (1280 x 720 pixels), 8GB of internal storage, 1GB RAM, Dolby Mobile 3.0 Plus for surround sound, 8-megapixel and 1.3-megapixel rear and front cameras, and a 1.2GHz quad-core CPU.
via CNMO