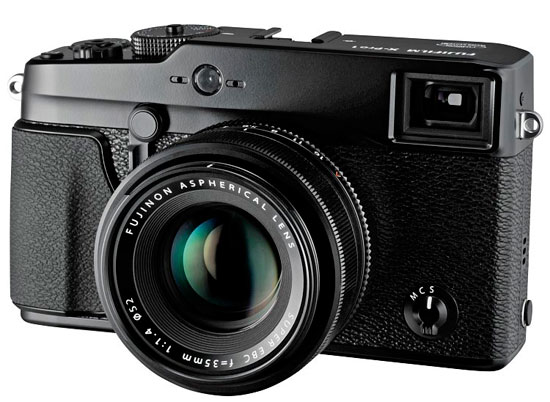 Fujifilm has been having a blast on the high end camera market lately, with both the X100 and X10 enjoying a lot of popularity, despite them having quite a few drawbacks when it comes to professional features. But the nice controls, great exterior design and high build quality, as well as a host of great hardware on the inside made them a perfect choice for anyone wanting a secondary camera they could take anywhere without having to lug around the bulky DSLR and its lens.
But if there's one niche where fans were expecting Fujifilm to return, it's the Interchangeable Lens market – it's been quite a while since the FinePix S5 Pro was released, and the poor thing was holding the line since then, quite well I'd say, but the old age is definitely starting to show. And now, it's finally got a successor – the X-Pro1.
Design and build quality
The Fujifilm X-Pro1 has a design that's very similar to the X10 and X100 – and indeed, why change what's not broken? The retro look and feel is loved by users, especially professionals who've been in the game for a long time, and the high build quality of the camera just reinforces the feeling of reliability and sturdiness – the all metal body isn't likely to break anytime soon, that's for sure. At the same time, the camera is compact enough to fit in any bag, especially if you're not carrying any big lens with you.
Hardware features
The Fujifilm X-Pro1 offers an impressive amount of features, including an all new sensor, which has 16 effective megapixels, but can compare to the 20+ megapixels monsters in image quality thanks to the 36-part color filter, which is much more advanced than the standard 4 part Bayer array and allows for a complete removal of moiré without using an optical low-pass filter, leading to a better image quality and better light sensitivity – just what photographers need. You can see the other specs below, but suffice to say that you won't be missing anything with this camera.
The proprietary X mount is an all-new design from Fujifilm, and although there are currently only three official lens for the camera (an 18mm F2 wide angle, 35 mm F1.4 normal and a 60 mm F2.4 Macro telephoto lens), there are always adapters for other lens, and they should work quite well with the X mount, too.
Controls and Interface
Unlike most of the other cameras on the market, the X-Pro1's controls look and feel very analog – the dials are geared to be used like the good old film cameras and first DSLRs, although the on-screen menus are very easy to use even by novices. In short, while professionals will enjoy using the dials, new users won't feel lost either, and that's a pretty hard balance to strike.
Specs Summary
Sensor: 16.3 Megapixels APS-C X-Trans CMOS sensor
Lens Mount: Fujifilm X mount
Auto Focus: Multi, 49 area LCD, 25 area OVF
Image Stabilization: In-lens optical stabilization (not all lens support it!)
Still image format and sizes: 1664×1664 to 4896×3264 pixels, RAW and JPG formats
Image processor: Fujifilm ER Processor Pro
Video recording: 1920×1080@24FPS, 1280×720@24FPS, H.264 compression, .MOV file format
Sensitivity: ISO 200-6400 in standard mode, 100-25600 in extended mode
Display: 3.0 inch RGBW, 1.23 million dots; EVF – 1.44 million dots
Battery: proprietary, Li-Ion, up to 300 shots on a charge
Dimensions and weight: 139.5 x 81.8 x 42.6 mm, 450 grams
Price and Availability
The Fujifilm X-Pro1 has only been announced, but it is expected to be released sometime this summer, just in time to compete with the other new ILC's on the market. With Fuji's innovative technologies, high build quality and tons of features, the X-Pro1 is definitely one of the best choices for professionals and amateurs alike – whether as a secondary camera for work on the go or even as the main camera for a photographer. The price is expected to be around $2000, which is quite steep, but I have no doubt many people will find it worthy.