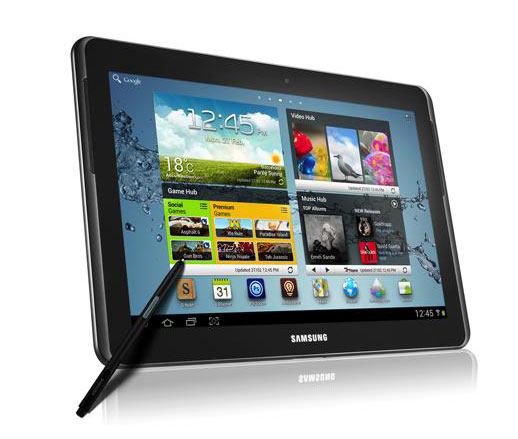 Samsung has been very successful in the past couple of years, not only on the household electronics market (which they practically dominate by now), but also on the computer products and mobile markets, as well. Their new lines of laptops and Ultrabooks are already among the most wanted on people's lists, and the Galaxy S line of smartphones is one of the most popular in the world, having sold more units than any other competitor.
The company's latest goal seems to be domination of the tablet market, as well, and they're doing a great job at advancing, with the Galaxy Tabs being the most recognized and bought models after the iPad. The latest Galaxy Note 5.3 inch tablet/smartphone has also succeeded where the Dell Streak failed, which is simply very impressive.
The Galaxy Note has also proven that the stylus is not dead and can be really useful, and with that in mind, Samsung has just announced a new tablet – the Galaxy Note 10.1, which uses a Wacom digitizer to provide the best stylus experience possible on a tablet.
Exterior design
The new Galaxy Note 10.1 looks very nice, and distinctively different than the Galaxy Tabs. It's got an ultra-thin profile with a mostly plastic construction that still feels sturdy thanks to the metal frame on the inside, and makes the tablet very light (it's only 583 grams – pretty impressive considering its size and hardware specs). The device comes in black and white colors, both glossy.
Performance and hardware features
The front is dominated by the Super PLS LCD display, which has great colors, brightness and viewing angles – it's no Super AMOLED, but it gets the job done and keeps the price low. The 1280×800 pixels resolution may disappoint some people and make the Galaxy Note 10.1 compare unfavorably to the new iPad, but it's good enough for everyday use.
The hardware specs are everything you'd expect from a newly released device – you can see the summary below – but there are a few things that stand out in a negative way. The first one is the 3 megapixels camera on the back, which is a step back from all the 5 and 8 megapixels units that Samsung has been using on the other tablets (it still supports HD video recording, though). The second is the lack of HDMI out and the proprietary USB port. But the Galaxy Note 10.1 isn't meant for entertainment – its main attraction is the pressure-sensitive, ultra-accurate Wacom digitizer, which makes it perfect for taking notes and drawing things.
The performance is at a high level thanks to the dual core 1.4 GHz processor and 1 GB of RAM, which won't drain the battery quickly, either. You'll also get plenty of storage space with the internal 64 GB and a micro SD card slot.
Software
The Galaxy Note 10.1 is running Android 4.0 Ice Cream Sandwich, with Samsung's own Touch Wiz UI and Live Panel UX interface, which are basically live tiles on the home screen. The stylus that comes with the device is very accurate and can be used in any apps, although you get more capabilities with special apps like SketchBook Pro and Adobe Photoshop Touch.
Specs Summary
Display: 10.1 inch, 1280×800 pixels, 149 DPI Super PLS-LCD, Wacom digitizer
Processor: Dual core, 1.4 GHz
RAM: 1024 MB
Storage Space: 64 GB + micro SD card slot (up to 32 GB cards supported)
Camera(s): 3 Megapixels back, 2 Megapixels front, 720p video recording supported
Connectivity options: Wifi N, Bluetooth 3.0, GSM, UMTS, HSDPA/HSUPA (up to 21/5.76 Mbps), proprietary USB port
Battery: 7000 mAh, up to 10 hours continuous uptime
Size: 256.7 x 175.3 x 8.9 mm (10.11 x 6.90 x 0.35 inches)
Operating System: Android 4.0 Ice Cream Sandwich
Price and Availability
The Samsung Galaxy Note 10.1 will be shipping in May, although we have yet to hear anything about the price. It will probably cost around $500-600 without a contract if it's to be competitive, and it would make a great addition to anyone's home, especially if you need to take notes or draw stuff frequently.