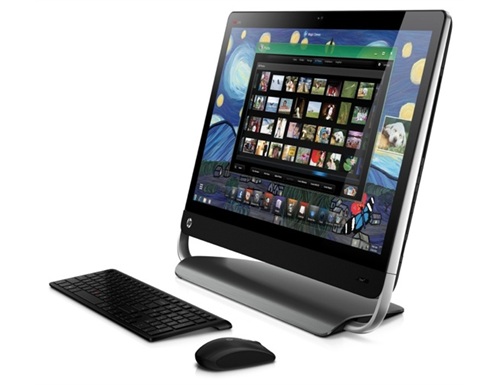 It's been over two years since Apple wowed us with a 27-inch iMac when HP decided to release a Windows-based competitor. During CES 2012, Hewlett Packard unveiled Omni 27 Quad all-in-one.
Overview
HP Omni 27 Quad is a desktop computer with a massive 27-inch display. It lacks the touch-sensitive screen found in 27-inch all-in-ones due to be released later this year by two major competitors – Lenovo and Samsung. Despite its lack of touch screen, that didn't stop HP from integrating Magic Canvas into the system. With the click of a mouse, you can access documents, files, and programs that are pinned on it. But if you don't like the idea of a desktop extension, you can always turn this feature off.
Besides not being touch-sensitive, the massive display of HP Omni 27 Quad also lacks resolution. Average users should find no problem in this but visual related professionals like designers and photo editors should think twice about getting it. Users limited to regular computing tasks, watching videos, and other forms of entertainment will unmistakably fall in love with its display though. There's really no need for resolution beyond 1920 x 1080 pixels for most people.
At first glance, gamers might give this Windows-based desktop a shot. Then again, a closer look at its Core i5 processor and embedded graphics card would make them shudder. HP Omni 27 Quad will have a hard time running current-generation PC games at full resolution. Why, even MSI's new SuperBook fairly beats these hardware components – and it's a laptop for crying out loud.
HDMI input is a noteworthy feature of HP Omni 27. But HP does charge an additional $50 for the online installation of HDMI Game Console. Despite its fancy naming, "HDMI Game Console" merely refers to a typical HDMI input which allows users to display videos from any HDMI-compatible device, whether it is a game console, cable box, or another computer.
Depending on configurations, the price of HP Omni 27 Quad is $1,149 at its lowest. The ceiling price is $1,249 including $50 for HDMI online configuration.
Specs
• Processor: Intel 2nd Gen Core i5 2.5 GHz 2400s
• RAM: 8GB 1333MHz DDR3 SDRAM
• Memory: up to 1 TB, 7200rpm
• Graphics Processor: 64MB Intel HD
• Connectivity: Gigabit Ethernet, 802.11 b/g/n wireless
• Optical Drive: Blue-ray player or dual-layer DVD burner combo
• OS: Windows 7 Home Premium SP1, 64-bit
Features
• A massive 27-inch LCD screen with 1920 x 1080 pixels
• Magic Canvas which gives users a wider desktop screen and a place where they can pin applications and shortcuts
• HDMI input
Verdict
I can only recommend HP Omni 27 for people willing to pay as much as $1,249 for a desktop with a massive screen and overall average specs. As an entertainment hub for watching movies or playing videos, HP Omni 27 is definitely one of today's best. Alternative options from the same 27-inch all-in-ones category fare better in hardware components which is why gamers and visual-oriented professionals should consider them instead. Specs are good enough for regular computing though but a 27-inch screen and bulky price tag seems over-the-top. Again, it all boils down to your budget and use for a desktop.