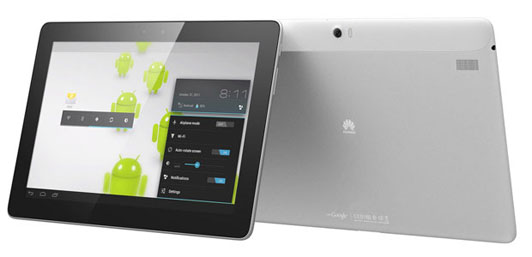 Huawei has been quite active for the past several months, and they've announced quite a few devices and technologies for the mobile market, including the awesome Ascend D Quad smartphone with a custom quad core processor and a very nice price tag. They've pretty much secured their position as a manufacturer of affordable and reliable smartphones, and now they're moving on to the higher levels, both in the smartphone and tablet niches.
Along with several other products, the company has announced the MediaPad 10 FHD – a high end tablet with an affordable price tag that will coming to a store near you if you live in China and Europe.
Exterior design
The Huawei MediaPad 10 FHD looks nice, indeed. It's got the same design and style as the company's first Mediapad, which is a 7 inch tablet for T-Mobile, and reminds quite a lot of the Asus Transformer Prime TF201 in overall style. The build quality isn't the best in class – the back is an all plastic panel, but overall the device is very sturdy and should be just as durable as any other tablets. The front is covered with a scratch resistant glass, which should hold up to any kind of daily use and abuse.
Hardware features and performance
The hardware features of the MediaPad 10 FHD are impressive – the tablet is truly worth of the high-end market. It's got everything you'll ever need on a tablet, from a great display to HDMI out and a lot of processing power. The display is a 10.1 inch IPS LCD unit with a 1920×1200 pixels resolution (i.e. even higher than Full HD), which looks simply awesome and is perfect for gaming, entertainment, reading, Web browsing, watching videos and anything else, being very close to the new iPad's display (in fact, it's one of closest to it by resolution).
The other hardware specs are equally as impressive – you can see the full list down below, but suffice to say that you won't be missing anything and you'll be able to use the tablet for pretty much anything from a personal tablet to a work machine to a car media center and navigator if you want.
The performance is very high thanks to the quad core processor and 16-core graphics adapter – custom designed by Huawei, which is pretty impressive. The company says that the graphics adapter is even faster than NVidia's new GeForce in the Tegra 3, and that may certainly be true at least in some benchmarks. The general performance will be high for sure, with the processor running at 1.5 GHz and the tablet having a full 2 GB of RAM – more than any other new tablet on the market.
Software
Obviously, the Huawei MediaPad 10 FHD will be running Android 4.0 Ice Cream Sandwich out of the box, which should satisfy anyone's needs, and the company has changed little in the interface (although there are some customizations), which is a great thing.
Specs Summary
Display: 10.1 inch IPS LCD, 1920×1200 pixels resolution
Processor: Custom quad core, Huawei K3V2, 1.5 GHz
Graphics adapter: Custom 16 core GPU
RAM: 2 GB low voltage DDR3
Storage Space: 8 GB internal memory, micro SD card slot (up to 32 GB cards supported)
Camera(s): 8 Megapixels main camera with 1080p video recording, front facing 1.3 Megapixels
Connectivity options: Wifi N, Bluetooth 3.0 EDR, HSDPA/HSUPA (up to 42 Mbps download, 5.76 Mbps upload) and 4G LTE support, HDMI out, USB port, 3.5 mm audio jack
Battery: Li-Ion, unknown capacity
Size: 8.8 mm thickness
Operating System: Android 4.0 Ice Cream Sandwich
Price and availability
The MediaPad 10 FHD is a high end tablet with an aggressive price strategy, meaning it will cost less than other tablets with similar specs. That is great news for anyone looking to purchase the most future proof tablet they can. The price hasn't yet been announced, but we know that the MediaPad 10 FHD will be coming to China and Europe by the end of spring – no word on it hitting US stores, yet.