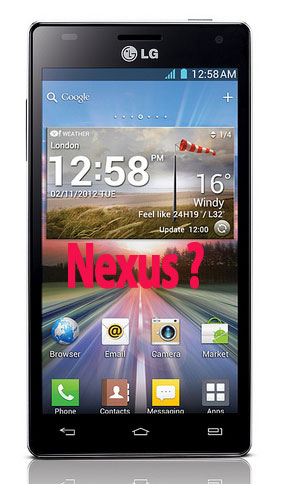 In the spirit of Android tradition, Google partners with one manufacturer to showcase their latest firmware in a smartphone. HTC and Samsung had their share of the spotlight, debuting the first Android phones on Éclair, Gingerbread, and Ice Cream Sandwich. Korean company LG isn't shy and says they want to be next in line. LG is currently negotiating with Google to be the next maker of Nexus phones.
It all started with Nexus One, a collaboration between Google and HTC. Nexus One was the first phone to have Android 2.1 Éclair. After coming into agreement, Google then collaborated with Samsung to create Nexus S, the first phone to run Android 2.3 Gingerbread. As for Android 4.0 Ice Cream Sandwich, Google again partnered with Samsung to make Galaxy Nexus. It is the latest addition to the Nexus family of phones.
Ramchan Woo, head of LG's smartphone division, was interviewed by CNET. During the interview, he said they were convincing Google to pick them as the next maker of Nexus phones. "We're working on it" he said, after asked to comment about the negotiation.
Come to think of it, every Android manufacturer wants to launch Google's flagship device. HTC and Samsung already did and everyone else is waiting in line. Samsung may have won Device Manufacturer of the Year at Global Mobile Awards but I don't think it's fair if Google asked them to make the next Nexus phone once again. The same goes for HTC.
Remember day three of the Mobile World Congress? Google Executive Chairman Eric Shmidt gave us this long speech about Android, saying "The weak will be made strong, and those with nothing will have something." LG is not-so-popular compared to competition and falls behind Samsung, Motorola, and HTC.
It's only fair to put them on the spotlight this time. Even though Sony's not doing any better, LG proved itself as an innovative competitor with LG Optimus 4X HD and overall 3D integration into smartphones. Sony has yet to prove itself.
Jellybean, Jelly Peanut Butter Sandwich, or whatever it will be called, I'm looking forward to LG debuting the next-generation Android firmware on a Nexus phone. Or if Sony catches up and innovates beyond their Playstation comfort zone, maybe Google would choose them instead.
Take your pick – do you want LG or Sony to launch a Nexus phone? Sound off!