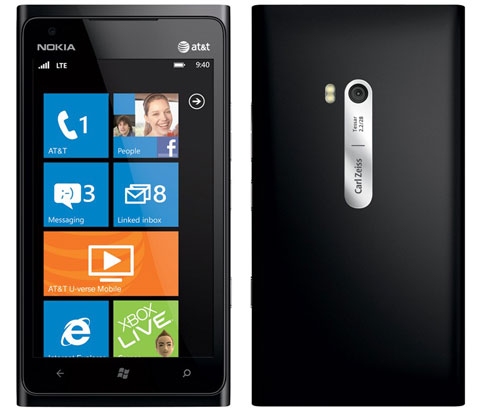 AT&T is launching Nokia Lumia 900 in the US this April 8th. The Windows Phone will be available in stores for $99.99 under a two-year contract – a relatively cheap price considering that it's Nokia's flagship flagship phone. The AT&T version of Lumia 900 also gets additional content not found in international, unlocked models.
For a recap of its specs, Nokia Lumia 900 is a Windows Phone with a 4.3-inch ClearBlack AMOLED display, 8-megapixel rear camera, front-facing video camera, and a beefy 1830mAh battery that should be enough to last you a whole day. The F2.2 wide aperture and 28mm wide-angle focal length of the rear camera are there to take care of low-light settings when taking photos. It also has a built-in LTE radio, which makes sense why AT&T is offering it to customers. Wi-Fi tethering also come with Nokia Lumia 900 out of the box. Despite these noteworthy specs, Lumia 900 is far behind in memory and processing power with a single-core 1.4GHz chip, 512MB of RAM, and lack of support for microSD card expansion.
AT&T customers get additional features including an ESPN sports hub, Nokia Drive, and U-Verse Mobile. ESPN sports hub is an app which keeps AT&T users updated on news, videos, and scores covered by ESPN. Nokia Drive is a mobile navigation system offering voice-guided turn-by-turn instructions to help you reach a destination. U-Verse Mobile is an application dedicated for U-Verse TV subscribers. The app lets you schedule and manage DVRs or watch TV wherever you are. There are over 700 TV shows and 100 TV series available for everyone.
Nokia Lumia 900 will be shipping to AT&T stores this April 8. You can get one for preorder beginning March 30 in blue or cyan. The high-gloss white version won't be available in the US until April 22. Also this April, AT&T will roll out 4G networks to selected regions in seven US states which explains why they're also offering HTC One XL and Sony Xperia Ion, two more phones with LTE radios. AT&T has been actively pushing their customers to adopt 4G LTE technology.