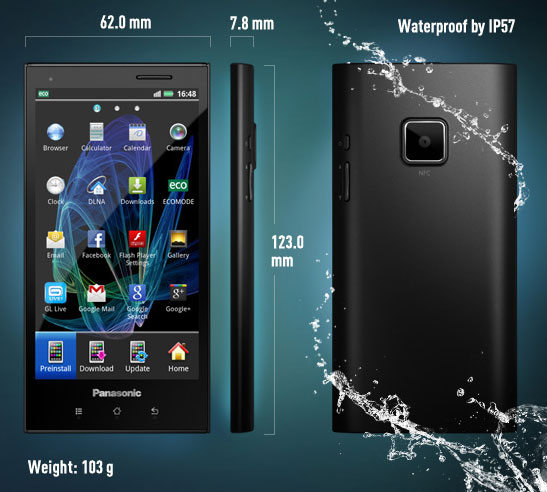 One week has passed since Panasonic announced the arrival of Eluga on Europe. The phone's specs weren't made official until today, however. Previous rumors about the phone were gibberish as it turns out, including how it got its name.
No matter how many times I say it aloud, Eluga just doesn't sound right. It doesn't sound pretty, elegant, or high-tech as commonly seen in smartphone names. Since Panasonic marketed it as waterproof, I hastily concluded "Eluga" was derived from the Beluga Whale. Panasonic was quick at their wits and denied the origin of this name days after, claiming it got its name from the phrase "Elegant user-oriented gateway".
In our previous post about Panasonic Eluga, there was nothing to rave about this phone other than the fact that it has a waterproof and dustproof shell. Its screen size was stuck at 4.3 inches which is standard in today's high-end smartphones. With the Japan release of an unnamed Panasonic phone (P-04D) running Android 2.3 Gingerbread and a 1GHz processor, I shuddered at the thought of it being the same phone. Today, Panasonic dispels these fears and rumors by the official unveiling of Eluga and it doesn't disappoint.
Specs
• Display: 5-inch capacitive OLED qHD LCD, 1280×720 HD resolution
• Dimensions: 136x70x9.6mm
• Form Factor: Slim bar
• Processor: 1.5GHz Qualcomm Snapdragon 4, dual-core
• OS: Android 4.0 Ice Cream Sandwich
• Camera: (Rear) 8MP with autofocus (Front) 1.3MP
• Video: 1080p full HD recording with auto-scene recognition and 8x digital zoom
• Memory: 8GB internal, micro SD card slot support up to 32GB
Features
• Dustproof and waterproof shell – international standard IP57
• Near-field communication (NFC) technology which allows contactless payments and data transfer
• Has superfast charging – from a 10% charged status, it can reach 50% in 30 minutes and 80% in 57 minutes or less.
NFC-support, a waterproof body, and fast-charge feature are three of Panasonic Eluga's best selling points. Who cares where its name comes from? A phone with these features can compete despite the market's oversaturation of smartphones.