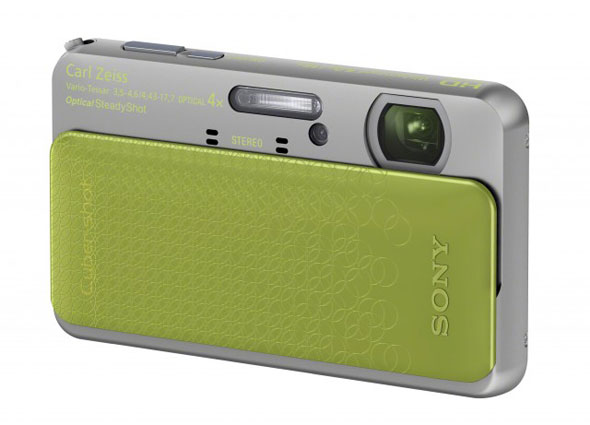 DSC-TX20 is Sony's latest addition to its Cyber-shot series of compact digital cameras. With its bright colors, stylish chassis, and overall sleek design, it doesn't look like it stands a chance from dropping, water exposure, and freezing temperatures. But there's more than meets-the-eye with Sony Cyber-shot DSC-TX20. The compact camera can withstand a variety of extreme conditions.
Overview
DSC-TX20 is a compact Cyber-shot camera with an ultra-slim frame. Edges are curved, making it comfortable to hold with both hands. The camera comes in odd but tastefully designed dual-color chassis. Its unique combination of colors is eye-catching, making it a great deal for fashion-conscious people. Depending on your color choice, it can look fresh and young or elegant and classy.
As mentioned previously, there's more than meets-the-eye with the beautifully constructed TX20. Beginning with the obvious, it has a dustproof shell that's a standard among compact cameras these days. What may come as a surprise to you is that it's waterproof. If you close all openings, you can submerge Sony Cyber-shot DSC-TX20 up to depths of 5 meters. Taking the camera out during winter shouldn't bother you as well because it can handle temperatures of up to -10 degrees Celsius.
But because some people tend to drop their cameras a lot, Sony made TX20 shock-resistant. It can survive falling 1.5 meters. The dustproof, waterproof, shock-resistant, and freeze-proof body of TX20 makes it suitable for rugged conditions. Now that's one tough cookie.
If we take a look at its specs, TX20 mostly has above-average qualities. Its 16-megapixel BSI CMOS sensor captures shadow details very well and allows quality photos to be taken in low-light settings. It also has a 25mm wide-angle zoom, giving shutterbugs the opportunity to capture wider perspective. That means you can fit in larger groups and wider landscapes in a photo. Unfortunately, these two specs are pulled down by the camera's 35mm focal length – a spec that doesn't make it any better than most entry-level compacts.
Sony Cyber-shot DSC-TX20 may be a rugged camera but it lacks one major feature – geo-tagging. It doesn't have a GPS module onboard which means you can't assign locations to photos while on-the-go. Travelers are better off with DSC-TX200V, a more expensive version of this model with a larger screen and few additional features. DSC-TX200V has the geo-tagging feature which DSC-TX20 lacks.
Specs
• Display: 3-inch touchscreen LCD with a resolution of 921k dots
• ISO range: 100 to 3,200
• Video: 1080p full HD
• Minimum focusing distance: 10cm
• Dimensions: 96 x 56 x 18 mm
• Weight: 133g
Verdict
DSC-TX20 makes an impressive addition to Sony's Cyber-shot series. Its dual-color design gives users the option to choose between fresh colors and classier, monochromatic combinations. Despite its compact and stylish body, that doesn't make TX20 any more fragile. In fact, it's designed for rugged conditions able to withstand shock, freezing temperatures, and water submersion. Overall, the camera's specs make it better than most compact cameras but its lack of geo-tagging feature limits its market. But if you don't mind assigning locations to photos after you upload them, purchasing Sony Cyber-shot DSC-TX20 is justifiable.