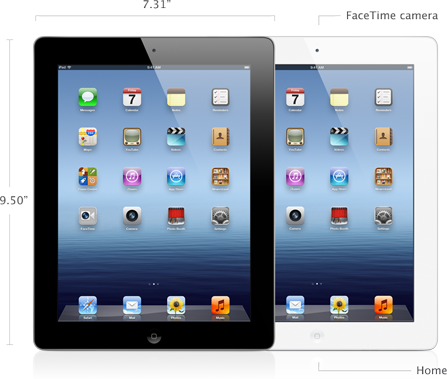 Apple has finally released the much awaited third generation iPad, and it turned out to be what the fans expected in a lot of ways, but also kind of disappointing because it isn't a new revolutionary design or anything, but rather an update to the existing model, just like the iPhone 4S was to the iPhone 4.
The new iPad doesn't have any suffix to its name – it's just the iPad, but as the old one is still on sale, everyone refers to it as the "new iPad". If the name doesn't make sense to you, it's kind of like the MacBook Pro laptops – there are many iterations, but all of them bear the same name.
That's what Apple is trying to do with their tablet, and probably with the next iPhone, as well. So, what does the new iPad bring in tow for its users?
A new high resolution display.
The new iPad has the same old 9.7 inch display, only with an all new 2048×1536 pixels resolution, which is something never before seen on a laptop, not to mention tablet! The 264 dpi pixel density is staggering – this is truly a Retina display, and I have little doubt that it took some pretty impressive engineering to create it. The picture quality is the highest in class, and the brightness is also on a high level, making the new iPad's LCD the best one on any tablet or laptop, for that matter.
A faster processor.
While the new iPad doesn't have a quad core processor, which many people expected, it does feature the new A5X chipset, which is faster in general apps than the previous A5 and much faster in games than pretty much any chipset out there, except the Tegra 3. The processor cores are running at 1 GHz, which makes it even more impressive – no doubt, it would be much faster if it was clocked at 1.5 GHz like the new Snapdragon S4, but then it would consume more energy, which is a no-no on the tablet with the longest lasting battery.
An all-in-one radio set, including 4G LTE.
The new iPad is "World-ready", according to Apple, when it comes to cellular connectivity. It's got every popular technology covered, including all GSM and CDMA bands, HSPA+ 3G and 4G and of course, AT&T and Verizon's 4G LTE. It really makes things simpler for everyone to have one device for all markets, and customers can finally switch networks freely (well, if they get an unlock code) and import the device overseas.
A bigger battery.
The 4G LTE radio, high resolution display and new processor do use quite a lot of energy, and with the new iPad being even slimmer than the iPad 2, you'd think there's little to improve when it comes to battery life. But Apple seems proud of the 10 hour battery life time of the first and second iPads, and the new tablet has to live up to the legacy. Which is why they used a new, high density 42 Ah battery inside to achieve 10 hours of continuous work on a 3G network and 9 hours on 4G LTE – very impressive, and hopefully with this and the RAZR Maxx, other companies will start using higher capacity batteries, as well.
A better main camera.
The camera on the back of the new iPad is also new – it's a 5 megapixels shooter that uses the same construction as the iPhone 4S' 8 megapixels unit, with a backside illuminated sensor, a larger aperture and faster autofocus. It can take some pretty good photos and of course, it supports 1080p video recording, as well.
As you can see, a lot of the rumors about the third generation iPad came true – it did get a high resolution display, 4G LTE, a faster processor and a better camera, but it didn't really get anything revolutionary – there's no quad core processor, no NFC, no tactile display – well, Apple can't do miracles, after all. The current upgrades, however, are plenty enough reason to get the device, and overall, the new iPad is pretty damn good for any kind of purpose.