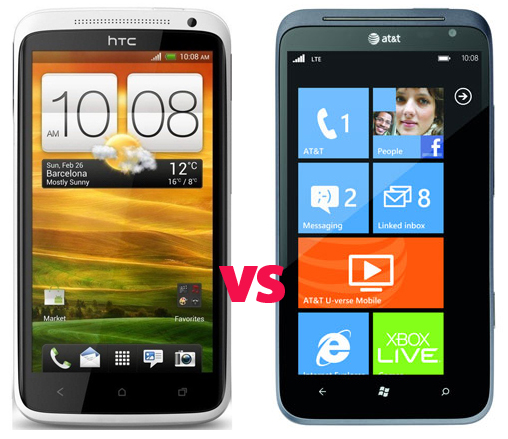 AT&T will soon have two flagship phones from HTC under their roof – Titan 2 which has been available since April 8, and One X bound to be released on early May. Titan 2 is the flagship Windows Phone of HTC and the only competitor to Nokia Lumia 900. HTC One X happens to be the same company's flagship Android phone. With both selling for $199 at AT&T and coming from the same quality handset maker, it's only fitting to compare the two and see which offers the best specs and user experience.
Design
HTC One X and Titan II have the same sized screens at 4.7 inches and almost similar dimensions. One X is slightly shorter and thinner than Titan II but only by 0.5 and 0.3mm, respectively. When held in the hand though, that's where the difference becomes obvious. HTC One X is significantly lighter weighing only 119.5g. HTC Titan 2 feels heavy at 147 grams.
Between the two, HTC One X is more appealing hands-down. It has an evenly surfaced front screen not like Titan II which curves inwards at the call receiver. Placement of the 3.5mm jack, power button, volume rocker, and touch-sensitive buttons are similar with Titan 2 and One X. For both, it's difficult to reach for the power button when held in one hand. HTC Titan 2 has a more accessible SIM card slot which easily slides out. One X requires you to have a paper clip of some sort just to prop open its micro-SIM drawer. The main advantage of Titan 2 is its dedicated camera button which the other lacks.
WINNER: Tie. Design encompasses aesthetics and functionality. It's not enough that the phone looks good. HTC One X wins us over aesthetic-wise but when it comes to functionality, HTC Titan 2 is the better contender. We leave it up to you to decide which you value more.
Software
HTC One X runs Android 4.0 Ice Cream Sandwich whereas Titan 2 runs Windows Phone 7.5 Mango. Mango has a stunning Metro UI but the interface needs getting used to. Everything is arranged in tiles and while this is beautiful, Ice Cream Sandwich displays apps on grids which make them easier to go over. Android also has more support for apps and continues to expand exponentially. The number of apps for Windows Phone currently top at 80,000 and isn't growing as fast. Also worth noting are the limitations of Windows Phone 7.5 which is unable to support high-resolution display and external storage. These limitations take their toll on the phone's specs.
WINNER: HTC One X has the better software mainly because Android has the most number of apps and offers better functionality. Metro UI may be vibrant, engaging, and more intuitive but at this point, a functional UI is still better than a beautiful one. Perhaps the next Windows Phone OS would be a more fitting rival to Ice Cream Sandwich but not Mango.
Hardware
HTC One X and Titan 2 have same sized screens but they differ in resolution. Of course, HTC One X offers the better one. One X has an HD Super LCD display with 1280 x 720 pixels. Titan 2 only has an 800 x 480 WVGA screen resolution – a spec limitation of Mango. Watching videos or reading text is more pleasurable on One X where it's hard to distinguish pixels from each other. And with the addition of Beats Audio optimization, it offers a richer multimedia experience overall.
Titan 2 has a more powerful 16-megapixel camera. The dual LED flash on Titan 2 is also a commendable spec given that its rival only has one. Despite these advantages, HTC One X does a better job at taking videos. The Windows Phone may have a higher-resolution camera but it only captures 720p videos. HTC One X can capture up to 1080p videos. HTC One X offers a little bit more than Titan 2 with camera features like filtering and geo-tagging as well as the additional image processor. Burst mode, face and blink detection, as well as several others features are equals.
The AT&T version of HTC One X has a dual-core Snapdragon S4 processor instead of the quad-core Tegra 3 found in its international version. Even though AT&T downgraded it to dual-core, it still is better than the 1.5GHz Snapdragon S2 inside the second-generation Titan. Both One X and Titan 2 lack external memory card support which is why HTC offers free cloud storage for both smartphones. Their internal memory is limited to 16GB which may not be enough for storing photos and music that's. The additional cloud storage is enough to cover this lack but without internet access, it's as good as useless.
WINNER: Most specs of HTC One X are undoubtedly better than Titan 2. That includes processing power, video capture capabilities, Beats Audio, and camera features. Titan 2 does overshadow HTC One X in some specs but they're not enough to topple it over.
Verdict
For $199, the Android-running HTC One X is a much better deal than Titan 2. It will arrive at AT&T on May 6 and comes with a two-year contract. It will be available as a pre-order beginning April 22.