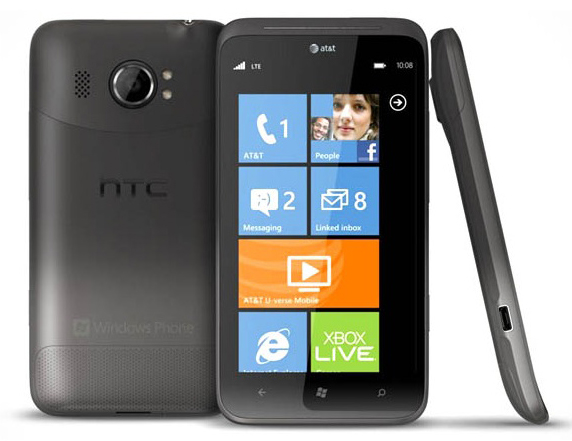 Not only is Titan 2 the flagship Windows Phone of HTC, it is one of just two LTE-enabled Windows Phones currently available in the market. Samsung plans to release Windows Phones running Tango and Apollo this year and unless one of them has 4G connectivity, Nokia Lumia 900 is the only phone that stands in its way. Does HTC Titan 2 have enough specs to stand out against its only and soon-to-be few competitors?
Design
A quick glance at HTC Titan 2 leaves lasting impressions of a high-end smartphone with outstanding build quality. The massive screen jammed into a larger body is a tell-tale sign of its flagship stature. The soft metallic finish and curved design makes it easy grip and pleasing to the eye – not necessarily stylish though. On the right side is a volume rocker and a dedicated camera button while the top edge is marked by a 3.5mm headset jack and power button. Navigation is made easier by the three touch-sensitive buttons found below the display.
One of our gripes is the power button located on top. On a phone that stands 5.2-inches tall, that's a hard-to-reach area when held with one hand. And while it feels solid, its heft and thickness are hard to ignore. It is both thicker an heavier than One X, HTC's flagship Android smartphone.
Software
HTC Titan 2 runs Windows Phone 7.5 or Mango. Best known for its beautiful Metro UI, it is a no-nonsense, easy-to-use platform. People who never owned a smartphone before will be easily charmed by it. Despite these praises, Tango has its lows. One of them is the limited number of apps in the market. While this has grown to 80,000 applications, the rate at which it's growing is far from impressive. The biggest setback would have to be lack of support for high-resolution display and microSD card expansion.
Hardware
The 4.7-inch screen looks great but needs getting used to for people who never went past 3.5-inch displays. Its resolution is limited to 800 x 480, leveling it with Nokia Lumia 900 and the original Titan. The poor screen resolution is evident when zooming in – text appear jagged. When viewing photos or playing videos on HTC Titan 2, the display is less vivid than its competitors. Besides having similar display, it also packs the same 512MB RAM, 1.3-megapixel front-facing camera, dual LED flash, 720p video capture, and 16GB internal storage. Due to limited internal storage, users will have to rely on Microsoft's cloud for storing videos and photos. 4G connectivity is also possible with both and sets them apart from other existing Windows Phones still in the market.
HTC has several tricks up its sleeve by including a more powerful processor and rear camera on their champion. HTC Titan 2 has a 16-megapixel shooter, two times more than what Lumia 900 has. Deeper in its metal gut is a 1.5GHz Snapdragon S2 processor which again is more powerful than Nokia's high-end Windows Phone. It does slack behind on one thing – battery life. Its 1730mAh battery could suffer from terribly from the phone's powerful processor. On moderate usage, the 1830mAh battery on Nokia Lumia 900 lasts 72 hours. HTC Titan 2 will probably last less than that under the same circumstances.
Verdict
HTC Titan 2 is the best 4G Windows Phone you can get as of today. Camera and processing speed are two things that places it ahead of Nokia Lumia 900 – that is, if you value these specs more than battery life and design. But with a $199 on-contract price tag, think long and hard whether you're willing to throw an extra hundred dollars for the 16MP camera and Snapdragon S2 processor. Lumia 900 only costs $99 on-contract and sells for a lower price at Amazon.