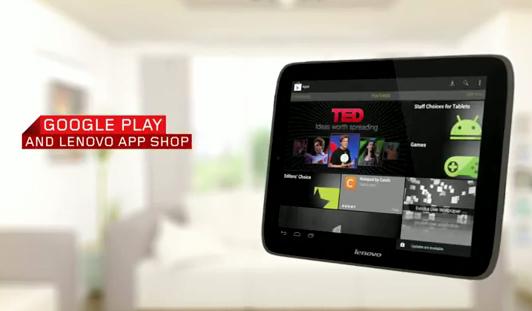 Lenovo today showed off their first Ice Cream Sandwich tablet, IdeaTab S1209. Although no pricing or release date was uncovered, we expect these details to surface in a few weeks since most of its specs are known. The tablet strikes us more as a device for playing videos above anything else. But it seems to live up to our only expectation of Android tablets – all-around functionality.
IdeaTab S1209 has an 8.9mm thick body, a unibody shell, and gunmetal finish for added durabilty. The screen is 9.7-inch wide boasting 4:3 display and IPS technology for wide viewing angle – up to 180 degrees to be exact. There are no physical and touch-sensitive buttons on the panel which means you'd have to rely on on-screen navigation, a feature native to Ice Cream Sandwich. But the sides are lined with a microSD card slot and separate HDMI and microUSB ports for expandable memory, video playback on HDMI-compatible devices, and quick transfer of files between tablet and PC.
Upfront is a 1.3-megapixel camera for video conferencing. Lenovo's choice to exclude a rear-facing camera was unpredictable but a good choice that could save tablet owners a few hundred dollars for something they barely even use. On the back are quad-speakers with SRS TruMedia technology for optimum audio performance when on loudspeaker. Lenovo touts a 10-hour battery life on IdeaTab S1209 but only real-world testing can prove its performance.
Processing speed, the processor used, internal storage, and RAM are yet to be revealed but Lenovo seems to market it mostly as a media player for both videos and music. Hopefully, these unknown specs are just as impressive as they are. Lenovo has been consistent at releasing quality products with reasonable prices. IdeaTab S1209 will likely follow this pattern.
via TechCrunch