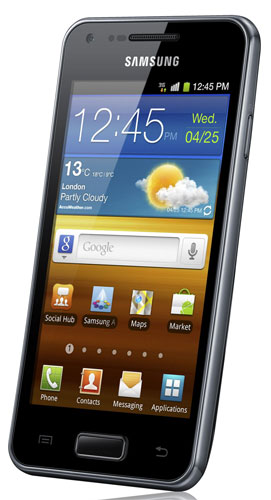 A week before the announcement "the next Galaxy," Three and Clove launch Samsung Galaxy S Advance i9070 in the UK. The device is currently in stock and available in black. Three UK is offering the device free with a two-year contract and monthly plans that start at £28. Clove UK is offering the same phone SIM-free and without any contract for £322.80 including VAT. Samsung Galaxy S Advance i9070 is a bumped-up version of Galaxy S Plus which was released as a successor to the original Galaxy S i900. In comparison to Galaxy S Plus it gets a fresh redesign and more processing power. In today's standards we can classify it as a higher-end midrange phone. The Galaxy smartphone is hitting stores on April 30, Monday, days before the announcement of Samsung Galaxy S3 in London.
Galaxy S Advance has a 4-inch screen. It's massive for a midrange phone but not enough to classify it as a premium. The Super AMOLED display means it produces high-contrast, vivid images. Overall design is curvier than its predecessors but sleek nonetheless. Weighing only 120g and having 9.69mm thickness, it feels great in the hand and fairly easy to hold. Powering the 4-inch smartphone is a 1GHz dual-core processor. RAM space is average at 768MB. Users get 8GB of internal storage on Samsung Galaxy S Advance but if that's inadequate, there's a microSD slot which supports up to 32GB of expandable memory.
Wi-Fi, Bluetooth, and 3G connectivity are innate to i9070 as with any smartphone these days. GPS is also possible and has Find My Mobile as an extra feature. Find My Mobile is a lost-phone management system that lets users track and remotely wipe the handset when stolen or lost. Peaking from the back is a 5-megapixel camera with LED flash and for video calls, there's also 1.3-megapixel front-facing shooter. Sadly, it's shipping with Android 2.3 Gingerbread and non-upgradable to Ice Cream Sandwich.
Unless you are willing to spend on the upcoming Galaxy S3 or any high-end phone for that matter, options like Galaxy S Advance, HTC One S, and Sony Xperia P are available in the UK. These smartphones may have midrange specs but carriers usually offer them at affordable rates. Panasonic Eluga is another Android selling in the UK but for a slightly higher off-contract price of £365 given its higher-end hardware.