Sony's consumer level digital cameras and camcorders may not be that popular, but the same cannot be said about their professional lines – videographers love their cameras. The company has been active in the market for quite some time, and last year, they managed to impress everyone and get all the independent film makers on their side with the NEX-FS100 camera, which paired a large sensor and pro-camera level features with a very affordable price point, much like the RED One did before.
And this year, the company has come out with the successor, the NEX-FS700, as well as the more compact, fixed lens HXR-NX30 (which also has a built-in projector, for some reason). So what do the two cameras have in store for the users?
Design
Both the NEX-FS700 and the HXR-NX30 have a pretty standard design for a camcorder, and they're well built out of sturdy plastic on the outside with a metal frame inside, just like a camera should be. The FS700 looks more "professional" of course, since it's an interchangeable lens camera with much more functionality than the HXR-NX30. The NX30 also has an interesting design, owing to its XLR mount and integrated projector – it's also aimed at professionals who need to film video while traveling, without having to carry a full shoulder-mounted camcorder with them.
Hardware features
The NEX-FS700 and HXR-NX30 have a pretty good amount of features – they're among the best affordable pro cameras you can get in this regard. The FS700 has a new Super 35mm sensor that is able to film video in full 4K format (although the firmware needs to be updated for it to work with the 3G-SDI out interface) as well as film in super slow motion (up to 960 frames per second depending on the resolution). The E-mount lets you install different lenses to fit your needs, and there are four internal ND filters – clear, 1/4, 1/16 and 1/64. Aside from the 3G SDI interface, which is desirable for FHD and 4K filming, you can also record video to Memory Stick and SDXC cards or output Full HD live video to an external recorder using the HDMI port.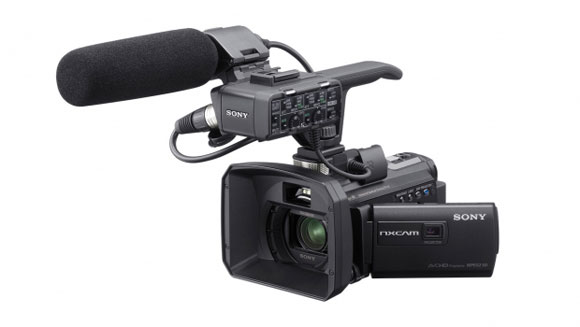 The NX30 is less impressive when it comes to the hardware, but it's still quite impressive. It can shoot Full HD video in AVCHD format at 24 Mbps to the integrated 96 GB of Flash storage or a SDXC or Memory Stick cards, it has a 3.5 inch LCD for monitoring and a mount for accessories, with a shotgun mic being included in the box, a super wide Carl Zeiss lens with 10x zoom and advanced hardware image stabilization, and of course the integrated projector that lets you project a 100" image on any flat surface (although I don't really see many professionals using this feature).
Controls
The controls are standard on both cameras, with the NX30 being designed as a hand held camera and the FS700 being a shoulder-mounted camcorder. Overall, both cameras should feel pretty good in action, seeing as their size and weight are much lower than the cameras of the last decade, which are still in use today, or even the pro cameras released in the past couple of years.
Price and availability
The price of both cameras is quite high, but then again, they aren't aimed at your usual amateur videographer. The NEX-FS700 will cost $9000 in North America, which is actually cheap for what it offers, while the HXR-NX30 is marked at $2500 – a good price for the features, but I feel that many would rather pay $500 less for a model without the integrated projector. All in all, though, the new cameras are worth the money and will surely be popular with indie film makers and videographers worldwide.