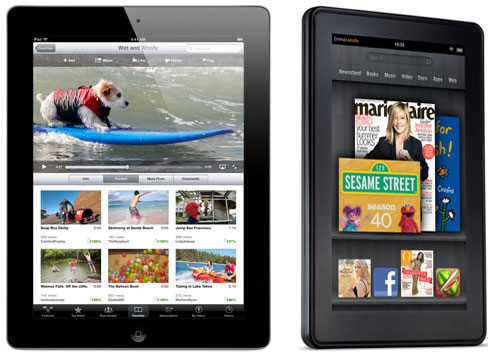 Even before the iPad was released, Amazon has thought up and created a device that would allow people to read books, magazines and emails on the go, without using a lot of power, thanks to the E-Ink display technology. The Kindle was a success, but the iPad quickly started stealing customers with its superior functionality, even though the battery lasted only ten hours.
And so Amazon found itself in need of a competing device that would still keep their core values intact – the result was the Kindle Fire tablet. But is it worth choosing over the new iPad, especially when Apple's product has so many advantages?
Design
The design of both the new iPad and Kindle Fire is similar – they're both tablets, after all. Both have a slate form factor and they're both all about the display, with pretty much no controls or design features to make them stand out. The iPad looks and feels a lot better though, with its premium aluminum body and gray color, while the all-black Kindle Fire can be mistaken for one of the dozens of Chinese knock-offs when it's turned off. The size difference is there, but it's really not that big of a deal, and the Retina Display on the new iPad is much better at offering an amazing picture (just check out Instapaper on this screen!).
Hardware features and performance
Being more or less a dedicated e-reader with tablet features, the Kindle Fire doesn't have nearly as many features as the new iPad. It can only match it in processor performance, with its dual core 1 GHz IT OMAP 4430. In pretty much everything else, the iPad wins – then again, its price is also 2.5x times higher even for the cheapest version.
If you're a really avid book reader, the Kindle Fire might be enough, but if you want to play a game or two once in a while, the iPad is a better choice – in fact, it's just as good at it as the PlayStation Vita, which is pretty awesome.
Software
The new iPad runs Apple's iOS, obviously, which is a perfect OS for pretty much any kind of entertainment or work. With access to over 500,000 apps on the iTunes Store, you can make your tablet do anything you want – even more so if you jailbreak it. The Kindle Fire, on the other hand, has a customized, locked down version of Android 2.3, with Amazon's custom interface (geared towards reading, of course), a custom browser and Amazon's own Apps Market. This severely limits the way you can use the tablet – unless you go through a pretty hard procedure to turn the e-reader into a full tablet by unlocking the full Android OS.
Specs Comparison Table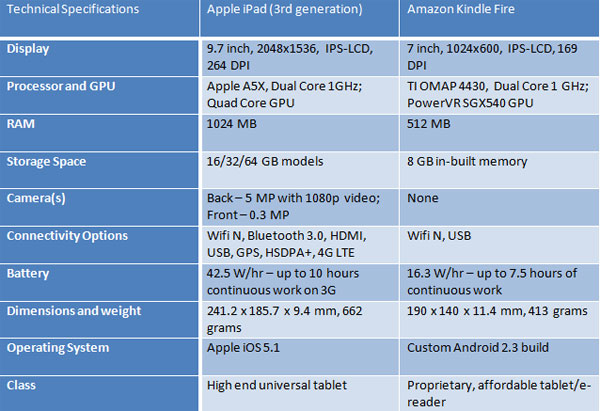 Price, Availability and Conclusion
Both devices are already on the market, with the Amazon Kindle Fire going for about $200 right from the manufacturer, and the new iPad starting at $499 – yes, the price difference is quite high, but if you're paying once to have a tablet that can be used for book reading, web surfing, gaming, entertainment and even work, it's worth the money.
The Kindle Fire is a good choice for those who just need a simple but reliable device to read books, magazines and browse the Internet, or modders/hackers who can turn it into a full-fledged (albeit still limited) Android tablet.