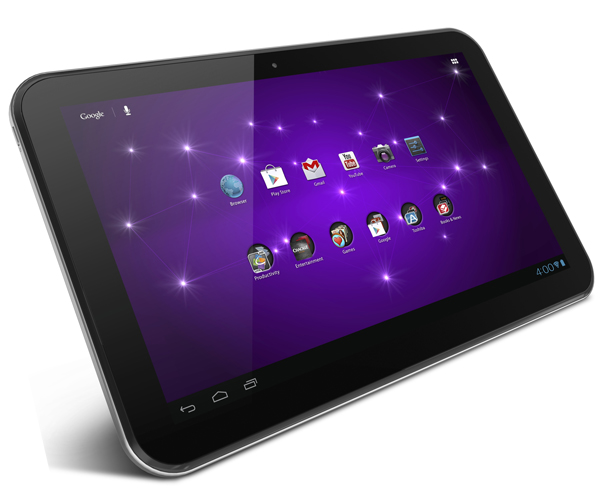 Just last week, Toshiba has finally announced their new lines of laptops and tablets, and alongside the usual products, including a 10 and 7.7 inch tablets that look like direct competitors to Samsung's Galaxy Tabs (the 7.7 even has an AMOLED display!), the company introduced the Excite 13 – a 13.3 inch tablet, which is quite an interesting move – either they're just throwing stuff out there to see what works (can you blame them when the 5 inch Galaxy Note was a huge success?) or they just ran out of ideas. Is 13 inches a good (or at least useable) size for a tablet or will the Excite 13 be yet another failure?
Design
The Excite 13 looks really nice – it's got a slim profile and high quality aluminum housing, with a Gorilla glass covering the front. It doesn't have the groove on the sides like the Excite 10 LE, but it's still very attractive – just as good as Samsung's Galaxy Tabs or the iPads. The tablet will weight around 1 KG, which is quite heavy for a tablet – Toshiba pretty much acknowledges this by shipping a desk stand in the package.
Hardware features and performance
The Excite 13 has pretty much all the features you'd expect a modern tablet to have, including Wifi and Bluetooth connectivity, two cameras (just imagine using the main camera with this tablet!) with HD video support, and a nice 1600×900 pixels display – better than most current Ultrabooks, which is pretty weird. The performance should also be on a high level thanks to the quad core Tegra 3 processor, 1024 Mb of RAM and GeForce GPU.
Software
Obviously, the Toshiba Excite 13 will be running Android 4.0 Ice Cream Sandwich, which is the new standard in operating systems for tablets and smartphones, and thankfully, there will be no skinning involved – the user interface will have the default design and functionality (which is simply great).
Specs summary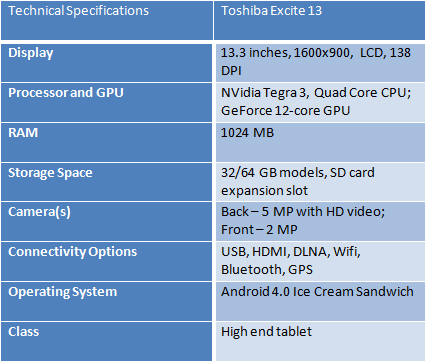 The Excite 13 will be available starting June 10th, and the cheapest 32 GB version will cost $650 – quite a lot of money to pay for something you can't really use outside of your house. There's also the 64 GB version that will cost a whole $750, which I doubt anyone will pay since you can buy a 32-64 GB SD card for cheaper and install it in the 32 GB model.
Conclusion
Toshiba says that the Excite 13 is mostly for indoor use, to comfortably browse the Web, watch videos and listen to music. It would really look great in the living room or in the kitchen – with the desk stand and no keyboard it would not take a lot of space, but the price is a bit high to make it worth it. I guess we'll have to wait and see.