The 13.3" Samsung Series 5 Ultra is a cheap Ultrabook option. It takes on the looks of its 14-inch cousin from Samsung Series 9 except it's slimmer and more affordable. It fits in perfectly with other Ultrabooks and lacks an optical drive, dedicated graphics, and other heavy-duty features but manages to be a step ahead in terms of hardware.
Design
One of the first things we noticed with the 13-inch version isn't its sleek profile but rather, its familiar design. Its curved edges and round corners were ripped off from Samsung Series 9. Going back to dimensions, its thickest point measures only 17.6mm and weighs 1.43kg. These numbers mean it's about the same size and weight as Dell XPS 13 which is good. HP Folio 13, Asus Zenbook, and Acer Aspire S3 stand no chance against these two in matters of weight and dimensions. Once you place it side by side against MacBook Air, it's no surprise that Apple's laptop is the sexier one.
Moving on to build quality, we couldn't help but notice the plastic feel of Series 5 even though some of its parts are made of aluminum. Keyboard positioning, opting for a large touchpad, and the anti-glare coating of the screen are three great design choices. But lack of a backlit keyboard, that mushy feel of the keys when typing, and the flex-feel of the bezel were certainly unwanted. The plastic buttons on the touchpad also made it feel cheap. In whole, the 13" Series 5 Ultra is a hit-and-miss on design.
Hardware
The only bad thing we can say about its hardware is that it has a Sandy Bridge instead of an Ivy Bridge processor. Sandy Bridge is fast but Ivy is even faster and more efficient at handling power. Not to mention it has integrated graphics. All other specs of Series 5 Ultra are satisfying and competitive at the same time. But nothing in particular stands out.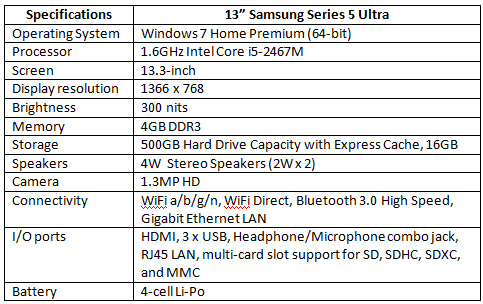 Performance and battery life
The performance of Series 5 Ultra is inconsistent. Starting with the good, it performs well at almost any task. It also scored the highest in an image processing test using Adobe Photoshop CS5. It has a short 17-second reboot time and in most instances, took only a few seconds to wake up.
Performance-wise it fails in everything else, falling behind its competitors in multimedia multitasking and Apple iTunes encoding.
When placed on continuous video playback, it only lasted 277 minutes on battery. That means it has a very poor battery life compared to other 13-inch Ultrabooks from Lenovo, Toshiba, Asus, and HP.
Verdict
Samsung Series 5 Ultra 13" is an attractive Ultrabook not just in design but also in hardware and pricing. Its Sandy Bridge processor didn't stop Samsung from packing decent specs into its sleek body. It may not have the best battery life but it's something you should be willing to look over when planning to buy one or any Ultrabook for that matter. Anyway, this sacrifice works in favor of having an ultraportable laptop. And the price? Just $899.99 – even lower if you catch it on-sale. The lowest price we've seen so far is $699.97.