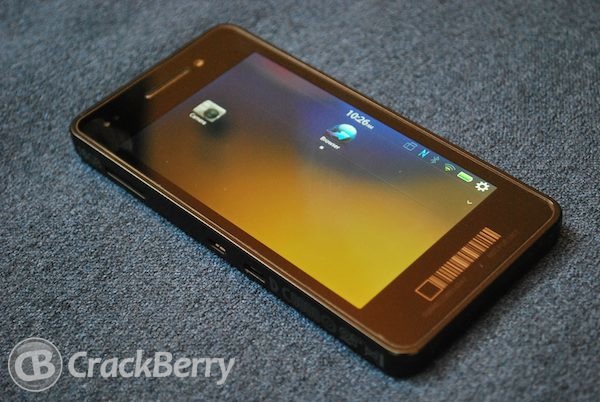 It's a huge day for Research In Motion but as you may all know, the company doesn't intend to launch a device. Instead, they will debut Blackberry 10 OS and apps currently being developed for it. Developers get to have Blackberry 10 Alpha Dev though, a smartphone exclusive to them and is a means by which they can create third-party apps. Recently, photos of it appeared online – it had a full touch-screen display and candy bar form factor. But specs were never revealed up until this point.
We've been meaning to get hold of Blackberry 10 Alpha Dev's hardware. It's not a full-proof reasoning but specs might give us a clue what the next Blackberry phone would be. Up until yesterday, we could only tell that it has a large form factor, a full-touch screen display, and a hefty battery life. Now, we could tell that it looks like a miniature PlayBook. It has the same soft curves on the corners, a soft-touch finish, silver physical buttons, chrome Blackberry logo on the back, and positioning of the microHDMI/USB ports and are all the same with both devices.
As far as specs go, we now that aside from a QNX-based software, it has a 4.2" inch screen with 1280 x 768 display, and 1GB RAM. Just as we speculated, it has a 4-inch screen which places it at par with high-end Android smartphones. The 1GB RAM also tells us how much power this device is capable of. Moreover, the phone is running PlayBook OS 2. Without a doubt, we are looking at the future of Blackberry devices and although it isn't innovative, it's about time that RIM launched a flagship phone fit for this era.
You have to remember that Blackberry 10 Dev Alpha is a developers-only phone and it won't be available for retail. Before ending his keynote at Blackberry 10 Jam, Research In Motion Vice President Alex Saunders says they will launch a "very limited-edition" version of the same phone for devs but gave no specific time frame. Moreover, RIM says they will be releasing a Blackberry 10 OS update to these phones once it is fully baked.