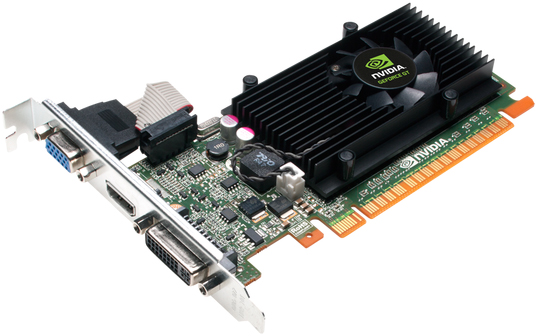 NVIDIA quietly launched three new graphics processors – GeForce GT 610, 620, and 630. Contrary to previous reports, they aren't based on the 28nm Kepler architecture like GTX 690, 670, and 680. Rather the new line of GeForce graphics cards is based on Fermi, a last-generation design. The 40nm architecture of Fermi is a standard in entry-level desktops and the release of this new line suggests NVIDIA is extending it past its expiration date. All three are Windows 7 certified and feature Open GL 4.2, PCI Express 2.0, DirectX 11, CUDA, and PhysX. Minimum system requirement is 300W for all of them. They're also 3D Vision Ready for Blu-Ray and photos alike.
NVIDIA GeForce GT 610
GT 610 is a resurrected version of GT 520. It remains stuck at 48 CUDA cores with 810MHz graphics clock. Most specifications remain similar for both but it's worth noting that processing speed was downgraded to 900 from 1620MHz. GeForce GT 610 is the entry-level option for this new line of Fermi-based chips.
NVIDIA GeForce GT 620
GT 620 succeeds the OEM-only GT 530. Its specs may vary depending on the OEM's choice. Compared to GT 610, GeForce GT 620 has twice as many CUDA cores. Unfortunately the memory interface was downgraded to 64-bit and this could take a toll on its performance. Maximum graphics card power is reduced to 49W from 50W which is good because it entails less battery consumption.
NVIDIA GeForce GT 630
The most powerful of the series is GeForce GT 630 with 96 CUDA cores and 128-bit memory bus width. It is not to be confused with the OEM-only GeForce GT 630 which actually has Kepler.
Specifications

NVIDIA GeForce

GT 610

GT 620

GT 630

Dimensions
5.7 x 2.7 in, single-width
5.7 x 2.7 in, dual width
5.7 x 4.37 in, dual width
CUDA cores
48
96
96
Graphics clock
810MHz
700MHz
810MHz
Processor clock
900MHz
1400MHz
1620MHz
Memory
1024MB, 1.8GHz DDR3 (64-bit)
1024MB, 1.8GHz DDR3 (64-bit)
1024MB, 1.8/3.2GHz DDR/GDDR5 (128-bit)
Maximum graphics card power
29W
49W
65W