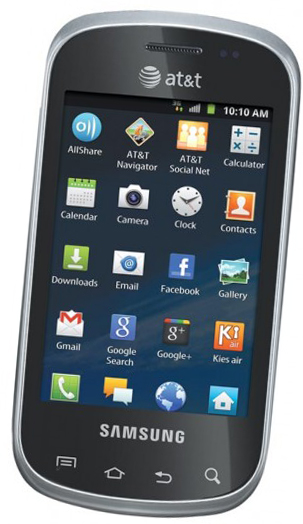 Whoever said that QWERTY keyboards are dead? AT&T just launched Samsung Galaxy Appeal, an Android smartphone with a slide form factor and full QWERTY keyboard. The phone will be part of the GoPhone prepaid lineup beginning July 15. AT&T says it will be the first of slider QWERTY available for GoPhone customers.
Design
There's nothing new here. Galaxy Appeal is just like the slider QWERTY phones released by Samsung previously. It has an almost egg-shaped form due to its curved corners and has a metal rim surrounding the edges. The glass protecting the display is glossy and on its bottom are four touch sensitive buttons for accessing Menu, Home, Back, and Search. In landscape mode, sliding the screen up will reveal the QWERTY keyboard. On the lower right hand corner you'll notice there's a four-way navigational button and "OK" for confirming actions. The keyboard is slightly depressed and the keys pop out a little. Letters are evenly spaced so it should be fairly easy to type.
Samsung Galaxy Appeal is a small phone mainly because it has a less-than-generous screen size. You can't expect it to be thin though since it has a sliding keyboard. The phone has a depth of 0.56 inches and weighs 4.3 oz. All in all, it's a portable phone that should easily slip into your pocket.
Hardware
Samsung Galaxy Appeal is no biggie. It has a meagre 3.2-inch screen which can be straining to the eyes. You can't expect much on screen resolution either with 480 x 320 pixels on display and just HVGA TFT LCD. Powering the phone is a single-core CPU with 800MHz processing speed. It will run Android 2.3 Gingerbread and is non-upgradeable to Ice Cream Sandwich. On the back is a 3-megapixel camera with 3x zoom and video recording capabilities. Other specs include 512MB RAM, 1.8GB ROM, and a microSD slot for expandable storage of up to 32GB. The 1300mAh battery on the back sustains up to 7 hours talk time and up to 300 hours on standby.
Verdict
Samsung Galaxy Appeal comes off as an entry-level option for GoPhone customers. It'll likely appeal to people who aren't willing to let go of QWERTY keyboards – yet. While it doesn't the wow factor that budget phones like Samsung Galaxy Ace 2 have, it will suffice for average users who simply use their phones for connecting to others. With a $150 price tag, it's even harder to resist.