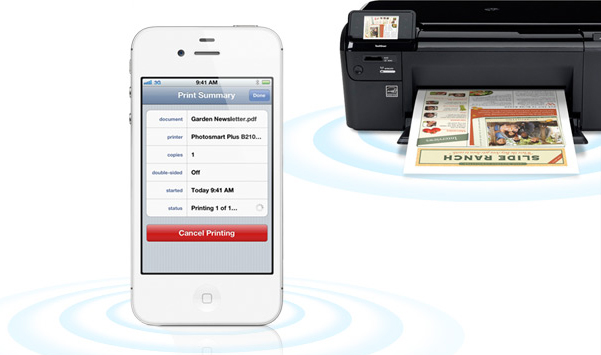 These days, printing documents, photos, or entire web pages is easier done on a computer than a device. This truth goes both ways for Android and iOS. Google Cloud Print helped make things easier for Android users but the same feats can be done with your iPhone, iPod Touch, and iPad with the help of AirPrint and iOS apps. Technically, these apps connect your phone to a compatible printer and facilitate the printing process. Both the device and the printer need to be on the same wireless network for this to work.
AirPrint
AirPrint is a native iOS function for iPhones and iPads running iOS 5.1 and higher. It can be launched almost anywhere in compatible devices, including Photos, Safari, Mail, and more. AirPrint is pretty straightforward. Simply tap the "Share" button when viewing a photo, web page, or document you want to print and fill in the details from there. You will be asked to select a printer – must be connected to Wi-Fi and compatible with AirPrint – and select the number of copies you want to print. Then, you press the "Print" button and it'll be taken care of from there.
The simplicity and ease-of-use is undeniable but the native function has limited photo-printing features. You can only print photos in 4 x 6 inches. Keynote and Pages printing has more features. Projects can be printed in whole but you can also leave out pages so not everything gets printed. Email printing via AirPrint is a little less smarter though. Printing emails in full screen is possible but Page Range isn't an option.
Third-party iOS apps for printing
Printer makers Epson and HP have come up with their own iOS applications for printing. These third-party apps have the same functionality as AirPrint but have more features. HP developed ePrint Home & Biz for connecting your iOS device to a wide array compatible HP printers. Photos can be printed in different sizes (3 x 5, 4 x 6, 5 x 7, letter, and A4) from the Photo Stream and Camera Roll. Our only gripe with HP's app is that it can't print web pages from Safari quite as good. Even though HP did included their own browser for better output, it's much slower than Safari.
For Epson printers, there's Epson iPrint. It has 12 different sizes for printing photos and the option to choose between Standard and Best print qualities. You can also choose to print photos with or without borders. Number of copies can also be configured. Advance Settings lets you make color, contrast, brightness, and saturation adjustments or print photos in monochrome. And in good old Epson fashion, you can check ink levels on your device.
Lexmark also came up with an app for printing photos using iOS devices – LexPrint. LexPrint doesn't look as snazzy as its competitors but it does a great job. Like Epson iPrint, there's an option to change Print Quality to Draft, Normal, and Photo. It has a total of eight sizes in printing options and a Scale to Fit feature. The number of copies to be printed can still be changed much like iPrint.