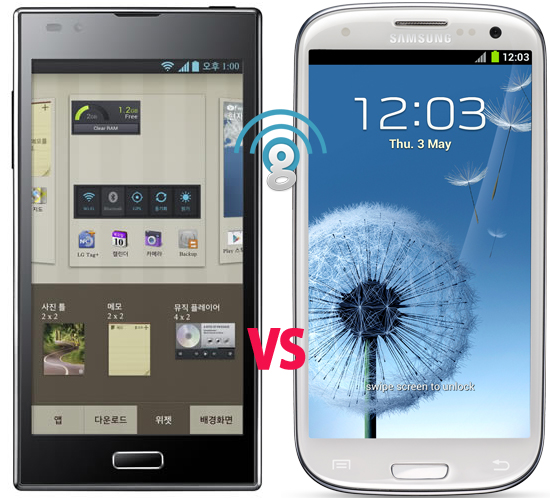 Samsung has finally released the Galaxy S3, and it turned out to be almost everything the fans expected – an ultra-powerful, ultra sleek flagship device with all the hardware and software features you'd ever need. The mix of both great hardware AND great software is what makes the Galaxy S3 stand out from the rest of the quad core phones – Samsung definitely learned their lesson from Apple.
LG has also been working hard to stay at the top of the pyramid – they entered the market pretty successfully with the first dual core smartphone, and many were expecting they would repeat that with the advent of the quad core processor. Their new flagship phone, the Optimus LTE2, goes another route, though, with the dual core Snapdragon S4, which is nonetheless just as fast as the Tegra 3. But how do the Optimus LTE2 and Galaxy S3 stack up – does LG have any hope of competing with the new giant?
Design
Frankly, the design of the Optimus LTE2 is the only thing that makes it worth considering over the Galaxy S3 (if you don't count the network operator). It's sufficiently unique and high quality to make anyone think twice before going with the cheaper feeling S3, plus the design reminds a lot of the iPhone and the Galaxy S2, which many people like more than the rounded curves of the new Galaxy S3. However, both phones will feel about the same in your hand or pocket, and the S3 will certainly not crumble in your palm.
Technical specs comparison
| | LG Optimus LTE2 | Samsung Galaxy S III |
| --- | --- | --- |
| Display | IPS LCD, 4.7 inches, 1280×720 pixels, 312 DPI | HD Super AMOLED, 4.8 inches, 1280×720 pixels, 306 DPI |
| Processor | Qualcomm Snapdragon S4, dual core, 1.5 GHz | Exynos 4 Quad, 1.4 GHz |
| RAM | 2048 MB | 1024 MB |
| Graphics Adapter | Adreno 225 | Mali-400MP – quad core |
| Storage Space | 16 GB built-in, micro SD card slot for up to 32 GB cards | 16/32/64 GB built-in, micro SD card slot for up to 64 GB cards |
| Camera(s) | Back – 8 MP with 1080p video recording; Front – 1.3 MP | Back – 8 MP with 1080p video recording; Front – 2 MP |
| Connectivity Options | HSPA, Wifi N, Bluetooth 4.0, HDMI, USB, GPS, DLNA | HSPA+, Wifi N, Bluetooth 4.0, LTE (select models), NFC, USB, HDMI, DLNA, GPS, GLONASS |
| Sensors | Accelerometer, gyroscope, proximity, light, magnetometer | Accelerometer, gyroscope, proximity, light, magnetometer, barometer |
| Battery | 2150 mAh – up to 10 hours of continuous work on 3G | Li-Ion, 2100 mAh, up to 10 hours of continuous use on 3G |
| Dimensions and weight | 134.7 x 69.5 x 8.9 mm, 145 grams | 136.6 x 70.6 x 8.6 mm, 133 grams |
| Operating System and Software | Android 4.0, Optimus UI 3.0, Quick Memo, Camera voice control | Android 4.0, Touch Wiz 5.0, Samsung Hubs, Adobe Flash, Live Panel, Wifi Direct, AllShare, On-Device Encryption, VPN, Smart Stay, Direct Call, Smart Alert, Social Tag, S Voice, S Beam |
Hardware features and performance
As you can see from the table above, both the Galaxy S3 and the Optimus LTE2 are pretty close when it comes to general specs, however the Galaxy S3 wins out in the end thanks to its quad core Exynos processor with Mali-400MP graphics adapter, which is even faster than the Tegra 3 and its GeForce GPU, not to mention the Adreno 225, which is practically last generation tech. The Galaxy LTE2 does have 2 GB to brag about, which is impressive, although there are rumors that there's an Asian version of the S3 coming up with 2 GB of RAM, as well.
Software features
Samsung's new software and customizations win out in pretty much any comparison. They definitely did a great job here and hopefully, other manufacturers will take notice. The redesigned Touch Wiz 5.0 UI looks and works better than its predecessor, which looks cheesy in comparison, and the unique software features are actually very useful – Smart Stay, Smart Alarm, AllShare, Live Panel, S Beam and even S Voice – all have practical, real world applications and are not only there for show.
LG's software on the Optimus LTE2 looks a bit bleak in comparison – there's the Optimus UI 3.0 and a few nice apps like Quick Memo, but that's about it. There's the voice control in the camera and a couple of other apps, but they're mostly for show than everyday use.
Price and availability
The Samsung Galaxy S3 and the LG Optimus LTE2 cost around the same price, and I believe the choice is heavily in the favor of the S3, unless you want an LG or like the LTE2's design. With the S3, you get everything you'll ever need in a smartphone, whether you're the average buyer or a power user.