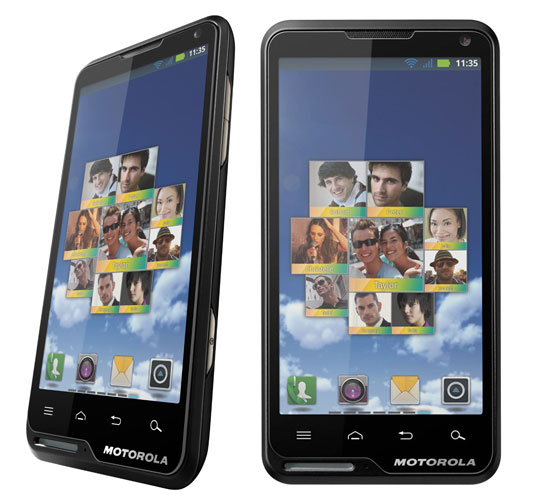 Motorola announced MOTOLUXE for Canada earlier today. Sounds familiar? It's the same XT615 smartphone which has been available in China for months. The midrange smartphone finally arrives in Canada where its specs were revealed. On top of its hardware, Motorola gave more details on its features for everyone to feast on.
In terms of screen size, Motorola was generous with MOTOLUXE and provided it with a sizable 4-inch screen. If you're most people, that means it would suit your taste for large phones. Resolution is limited to 480 x 854 pixels but this is a midrange handset after all. It has an 8-megapixel rear shooter with flash and autofocus as well as a VGA front-facing camera for video calls. The processor powering MOTOLUXE is far from impressive as it only has a single-core 800MHz chip under the hood. Midrange phones of this caliber usually have single-core CPUs clocked at 1GHz. It has 512MB RAM, 1GB of ROM, and a microSD card slot for expandable memory. And as for connectivity, the handset has Bluetooth, WiFi, HSPA, and GPS.
Motorola touts the device to have a dynamic new interface. This interface features Social Graph where you can easily connect to people who matter the most, be it your friends or family and Activity Graph which monitors your habits in using apps, bringing you closer to those you use the most. But our two favorite features would have to be Music+ and Smart Gallery. Music+ enables users to easily play their music while Smart Gallery organizes your favorite photos in collections.
Another cool feature MOTOLUXE is the colored LED notification. With it, you can easily tell whether you got a call, text, or some other notification.
Unfortunately, the phone will run Android 2.3.7 Gingerbread and is non-upgradable to Ice Cream Sandwich given its hardware limitations. Availability and pricing of the phone wasn't detailed but Canadian carriers will likely adopt the phone in the coming weeks.