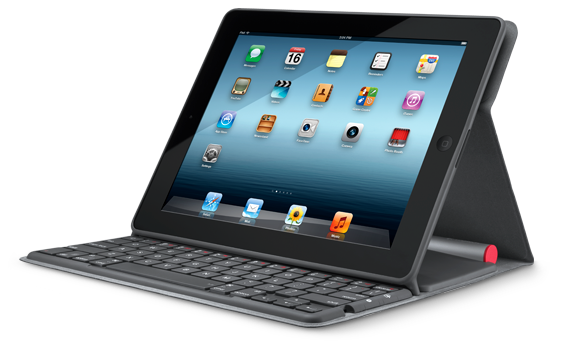 Apple denied rumors they're working on a MacBook iPad hybrid but that doesn't mean you can't use your iPad as a laptop. Existing applications and services can be used for creating word documents and notes. With the help of a keyboard dock you can use these apps or services, type with ease, and have the entire screen of your iPad for display. Logitech recently released an iPad case with a built-in keyboard. Called Solar Keyboard Folio, it serves to protect the iPad and transform it into the tablet PC hybrid some of us are longing for.
Design
The folio case has an ultra-slim profile. That alone is mind-boggling considering it has a built-in keyboard. It was designed so you can prop up the iPad in two positions. In one position, you can use the entire keyboard. The second position only displays the keyboard's first row for multimedia controls, namely playback and volume. But you don't have to use the keyboard every time. It stays concealed underneath the iPad when not in use, adding some thickness to the slate.
Features
The built-in keyboard is solar-powered and doesn't require charging through an AC adapter. Instead it charges through indoor and outdoor lighting. When fully charged, it can last up to two years in complete darkness – granted that you limit its use to two hours a day. It connects to the iPad via Bluetooth and not with a dock. Besides the two standing positions mentioned earlier, Solar Keyboard Folio instantly wakes the iPad once opened. When closed, it automatically puts the device on sleep.
Verdict
Logitech Solar Keyboard Folio is more than just an iPad cover with a built-in keyboard. It's smart, sleek, and adds functionality to your slate. It sells for £119 or $129.99 and saves you hundreds of dollars compared to full-fledged laptops. Compatibility is limited to iPad 2 and the new iPad given their similar dimensions. If you ask me, the solar keyboard folio case is worth every penny.