AT&T has gone full throttle on Windows Phones and two of their latest offers are Nokia Lumia 900 and Samsung Focus 2. While they belong to different categories – Lumia 900 being high end and Focus 2 being midrange – choosing one over another proves to be difficult. For the most part, both smartphones share similar hardware but each has an advantage over its competitor.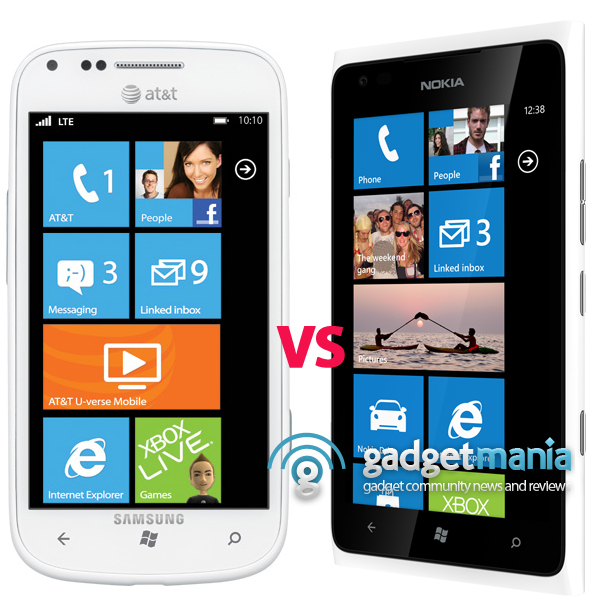 Design
Samsung Focus 2 is smaller and lighter than Nokia Lumia 900 but only because it has a less-massive screen. The 4.3-inch screen of Lumia 900 helps justify its larger frame and heavier weight. It does tip the scale at 160g compared to most smartphones which average at 120g. And while larger phones tend to be thinner, this isn't the case with Lumia 900 as it is 0.5mm thicker than Focus 2. Despite all these, Lumia 900 is by no means a thick and bulky phone. It's still sleek enough to fit into your pocket.

| | | |
| --- | --- | --- |
| Measurements | Samsung Focus 2 | Nokia Lumia 900 |
| Dimensions | 121.7 x 62.7 x 11 mm | 127.8 x 68.5 x 11.5 mm |
| Weight | 122g | 160g |
Both phones have a candy bar form factor but Lumia 900 is more attractive due to its linear shape and quality build. Focus 2 resembles Samsung Galaxy S3 whose design we admittedly like but feels cheap with its plastic material. Both also have three touch-sensitive and dedicated camera buttons which makes navigation easier.
WINNER: Nokia Lumia 900. Although not as handy as Samsung Focus 2, it exemplifies good build quality, a great design, and a pocket-friendly form. Besides, you have more color choices with Lumia 900 than Focus 2.
Hardware
For the most part, Samsung Focus 2 and Nokia Lumia 900 have similar specs. They run the same version of Windows Phone 7.5 Mango, have a single-core 1.4GHz Snapdragon processors under the hood, 4G connectivity, 512MB RAM, and 720p video recording just to name a few. They even share the same pitfall and that's lack of support for expandable storage. Amidst their similarities, Focus 2 and Lumia 900 have advantages over each other which help set them apart and identify with a particular market.
Samsung Focus 2 has a better screen resolution thanks to its Super AMOLED display and pixel density of 233ppi. Images and text are crisper on the Samsung Windows Phone and colors are more vibrant.
Another advantage of Focus 2 is its panorama camera feature which the Lumia Phone doesn't have. But Lumia 900 has a larger display at 4.3 inches; Focus 2 only has a 4-inch screen. The Lumia phone also has 16GB internal storage in contrast to just 8GB on Focus 2. But what really places Nokia Lumia 900 several steps ahead is its rear-facing camera with 8MP Carl Zeiss optics, dual LED flash, and autofocus feature.

Specifications

Samsung Focus 2

Nokia Lumia 900

Display
4-inch Super AMOLED screen, 800 x 480 pixels, 223ppi
4.3-inch AMOLED screen, 800 x 480 pixels, 217ppi
Camera
Rear: 5MP, autofocus, LED flash

Front: 0.3MP

Rear: 8MP Carl Zeiss optics, autofocus, dual LED flash

Front: 1.3MP

Video recording
YES, 720p
YES, 720p
CPU
1.4GHz single-core Scorpion, Qualcomm Snapdragon
1.4GHz single-core Scorpion, Qualcomm Snapdragon
Graphics
Adreno 205
Adreno 205
RAM
512MB
512MB
Storage
Internal: 8GB
External: None
Internal: 16GB

External: None

Connectivity
Bluetooth 2.1 with A2DP, WiFi 802.11 b/g/n, micro USB 2.0
Bluetooth 2.1 with A2DP/EDR, WiFi 802.11 b/g/n, micro USB 2.0
Battery
1750 mAh
1830 mAh

WINNER: Nokia Lumia 900. Except for the display resolution, panorama feature, and shared specifications, Samsung Focus 2 pales in comparison to it.
Verdict
AT&T is offering Samsung Focus 2 and Nokia Lumia 900 with two-year contracts and this makes the decision all-the-more crucial from a user's standpoint. Samsung Focus 2 may be the cheaper phone but that doesn't necessarily translate to better value. If you want something that will last you throughout a two-year contract, Nokia Lumia 900 will do the job and at $100 it's still a bargain. Samsung Focus 2 might need replacing within a year since its specs are more decent than impressive. Besides, a $50 difference isn't worth trading for an additional 8GB of internal storage and better performing camera.