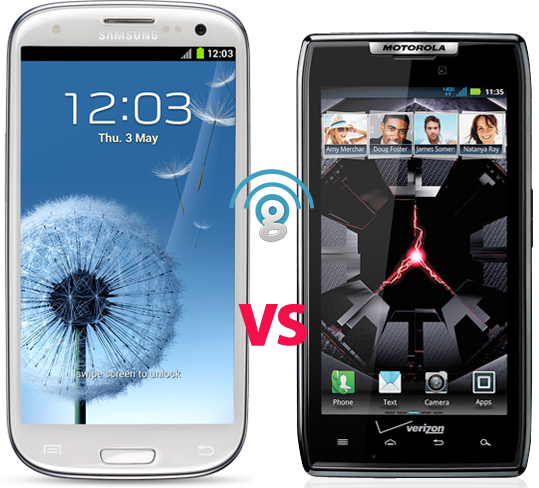 When it was first released, Samsung's Galaxy S2 was the best Android smartphone money can buy – it had the hardware power to rival anything else out there, and it looked great to boot. However, half a year later, Motorola released their Droid RAZR, and suddenly the Galaxy S2 moved on to second place. The RAZR is definitely one of the most stylish phones out there – slim, well built, sleek and stylish well beyond its price. But now Samsung is back with the Galaxy S3, and it looks like this time, the RAZR's metal body won't help it. If you're comparing the Droid RAZR with the Galaxy S3, read on.
Design
The Droid RAZR hasn't lost its unique appeal when it comes to the design, but the Galaxy S3 is well ahead of its predecessor now. Even though it's still made mostly out of plastic, the S3 manages to impress anyone with its big display, narrow bezels, sleek and slim profile and removable back cover. The fact that it has a glossy scratch-proof finish on the back and a Gorilla glass on the front is just a plus. The RAZR is still sturdier, so it may be a better choice if you keep your phone in tight jeans, but at the same width, the 4.7 inch HD display on the S3 is much nicer to use than the 4.3 incher on the RAZR – the rounded design helps a lot, too.
Technical specs comparison
| | Motorola Droid RAZR | Samsung Galaxy S III |
| --- | --- | --- |
| Display | Super AMOLED, 4.3 inches, 960×540 pixels, 256 DPI | HD Super AMOLED, 4.8 inches, 1280×720 pixels, 306 DPI |
| Processor | TI OMAP 4430, dual core, 1.2 GHz | Exynos 4 Quad, 1.4 GHz |
| RAM | 1024 MB | 1024 MB |
| Graphics Adapter | PowerVR SGX540 – single core | Mali-400MP – quad core |
| Storage Space | 16 GB built-in, micro SD card slot for up to 32 GB cards | 16/32/64 GB built-in, micro SD card slot for up to 64 GB cards |
| Camera(s) | Back – 8 MP with 1080p video recording; Front – 1.3 MP | Back – 8 MP with 1080p video recording; Front – 2 MP |
| Connectivity Options | HSPA+, Wifi N, Bluetooth 4.0, LTE, USB, HDMI, DLNA, GPS, GLONASS | HSPA+, Wifi N, Bluetooth 4.0, LTE (select models), NFC, USB, HDMI, DLNA, GPS, GLONASS |
| Sensors | Accelerometer, gyroscope, proximity, light, magnetometer | Accelerometer, gyroscope, proximity, light, magnetometer, barometer |
| Battery | Li-Ion, 1780 mAh, up to 8 hours of continuous use on 3G | Li-Ion, 2100 mAh, up to 10 hours of continuous use on 3G |
| Dimensions and weight | 130.7 x 68.9 x 7.1 mm, 127 grams | 136.6 x 70.6 x 8.6 mm, 133 grams |
| Operating System and Software | Android 4.0 (via OTA update), audio equalizer, Swype keyboard, On-Device Encryption, Adobe Flash, Webtop UI for large displays via dock, full Firefox Web browser | Android 4.0, Touch Wiz 5.0, Samsung Hubs, Adobe Flash, Live Panel, Wifi Direct, AllShare, On-Device Encryption, VPN, Smart Stay, Direct Call, Smart Alert, Social Tag, S Voice, S Beam |
Hardware features and performance
As the newest flagship from Samsung, the Galaxy S3 obviously has the upper hand when it comes to the hardware – but as anyone who handled both a quad and dual core smartphone can tell, you there's really not much of a difference between the two in everyday apps. However, the new Mali-400MP inside the S3 is up to 50% faster than the one inside the Galaxy S2, and it's a couple of generations ahead of the good old PowerVR SGX540 inside the Droid RAZR.
This means that you'll be able to run the latest games in high quality on the S3, while the newest titles (which are much more impressive graphics quality-wise) will struggle on the Droid RAZR. The other specs are surprisingly similar, except for the battery – the S3 has a bigger unit, which also lasts longer even with the quad core processor.
Software features
The Galaxy S3 definitely wins when it comes to the software – Samsung put a lot of work into making sure that their new handset is as close to perfect as possible in this regard. The phone has a lot of cool and more importantly, useful features out of the box – Live panel, AllShare, Encryption, Smart Stay, Smart Alert, S Voice – all of them make the experience much better. The UI is also super smooth in any situations – there's no lag or stutter to be found.
The same cannot be said about the Droid RAZR – even though Motorola used a toned down version of MotoBlur, the UI is still a bit laggy, and there's not that many unique features to talk about. On the upside, the RAZR has the Webtop UI for big displays (when using the desktop or netbook dock) with a full version of Firefox for the best Web experience. And we can't forget the fact that the boot loader in the RAZR is locked, so you won't be able to install custom ROMs in the future – the S3 is very much open in this regard.
Conclusion
The Droid RAZR is already on sale, and the Galaxy S3 is coming out on May 29th, so if you're choosing between the two, I'd say you should go for the S3, unless you really need the extra sturdiness (remember that if you drop either phone, the glass will most likely crack, so it's off to service either way).